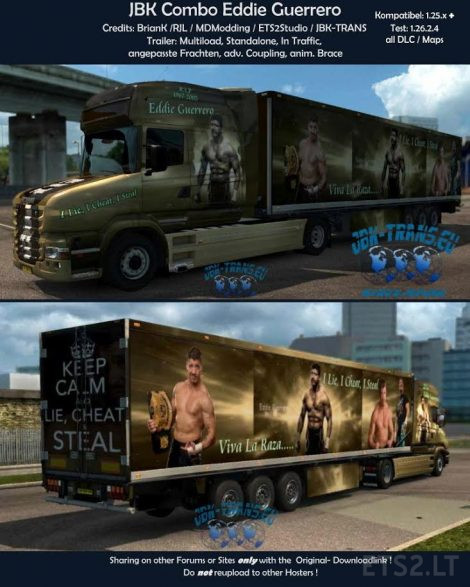 JBK-Combo Eddie Guerrero
Credits: BrianK, RJL, MDModding, ETS2Studio, JBK-TRANS
Original:
—
Origine:
—
Skins:
– BrianK
—
Tested in:
1.25.xx / 1.26.2.4
—
Truck/s:
RJL
—
Trailer:
– Fridge (MDModding)
—
Eigenschaften Trailer:
– Advanced Coupling
– Animated Brace
– Standalone,
– Angepasste Frachten
– ModManager Ready
—————————————————————————
ATTENTION / ACHTUNG:
Sharing on other Forums/Sites only
with the Original-Downloadlink !
DO NOT HOST ON OTHER SITES/SERVERS !
DO NOT REUPLOAD !
ALL OUR MODS FROM US SELFMADE. NO OTHER MODS ARE USED / COPIED / CHANGED FOR OUR MODS.
WE STILL USING OUR SEARCHES AND PERMISSIONS FROM THE COMPANYS:
WE TAKE DISTANCE TO -JBK-MODELER- , WE HAVE NOTHING TO DO WITH HIM !!!
WE ARE AGAINST MOD-STEALING !!!
Credits:
BrianK, RJL, MDModding, ETS2Studio, JBK-TRANS
THIS PACK contain
skin for scania rjl DHL
trailer schimitz DHL
v.1.26.x.x
Credits:
SylweK
DOWNLOAD 5 MB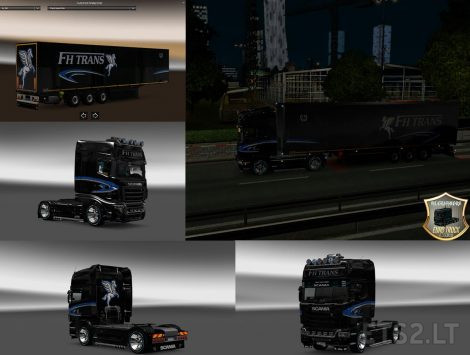 Test version : 1.26
I wish you a pleasant game!
When you distribute to other sites, keep the author's link.
Credits:
Aleksandro
DOWNLOAD 8 MB
This mod contain:
skin for scania rjl
and trailer schimitz
tested v:1.26.x.x
Credits:
SylweK
DOWNLOAD 6 MB

This combo-pack includes
Schmitz TZ Express Trailer – "Bonito, Bonito é pedir um Favaíto"
Favaíto Skin for ingame DAF XF
—————
All the textures are in high-quality, and were rebuilt in this update.
This skin works only on the ingame DAF XF, and in any cab.
However, the suncover over the windshield might cover the logos on the cab, so I reccomend to just don't use it, just like this truck on the real life.
Credits:
SilvaTrucker, TZ Express
DOWNLOAD 6 MB
SKIN for SCANIA RJL
and trailer schimitz
Credits:
SylweK
DOWNLOAD 6 MB