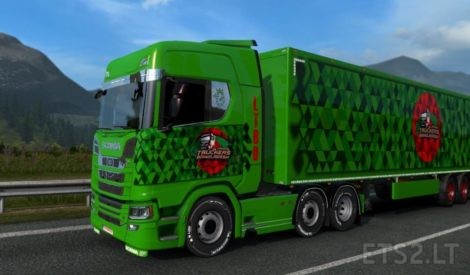 Legend Truckers Bangladesh ( Official Mod )
Mod info:
4 Own-trailers paitnjobs
4 Trucks paintjobs ( 2 Scania & 2 Volvo )
4 Flags
4 Cabin flags
1 Cup
Credits:
27C ( Sandro Tchavtchavadze )
DOWNLOAD 752 MB
Skin is for Scania R2016(Only). Skin is made for 4,4 box on both for trailer and truck. Some of DDS file is too big (I don't know the issue)
Tested in v1.34.x
Recommend:
50k addon (For lightbox)
***DO NOT RE-UPLOAD THIS MOD***
Social:
www.facebook.com/AJunthonTransportAB
IG: addyv8.ets2
Credits:
AddyJ, Kast, Siperia
DOWNLOAD 143 MB
Barrinho Transportes Pack for the 1.32 version or newer, compatible with the ownable trailers.
This pack includes two truck skins, for the DAF XF 105 and XF Euro 6, compatible with any cabin. Includes also the skin for the ownable trailers, in white for all the trailers with exception of the curtainsider, wich uses and specific grey paintjob. The trailer skins aren't meant for doubles.
Credits:
SilvaTrucker
DOWNLOAD 604 KB
Truck and Trailer Bodex
– New chassis
– New owenable trailer
– Own cargo
– Test on 1.33
Credits:
Teklic and others
DOWNLOAD 94 MB
Hello my friends
—-
Scania RJL Tandem V8 & Eagle Skin Pack
The Skin works with Cabin Top Line
You will need this mods:
_Ekeri trailers v2.0.6
_Ekeri Tandem trailers ADDON v2.0.4
_Scania R & Streamline Modifications v2.2.3
_Tandem addon for RJL Scania rs&r4
—-
Tested: ETS2 1.34
—-
Youtube: http://bit.ly/2tC0Qbt
Facebook: http://bit.ly/2GHx7Y7
—-
PLEASE DO NOT REUPLOAD.
If you want to share it please show some RESPECT and use ORIGINAL link.
DOWNLOAD 519 KB
skin for scania RJL 5 series + tandem and ownable ekeri trailer,mods needed:Ekeri semitrailer by Kast,Ekeri Tandem addon by Kast,Tandem Addon scania RJL by Kast,light and accessory by Powerkasi,RS Scania addons by Powerkasi;lightbox PWT Thermo by 50k link : https://sharemods.com/c020gzozgx9w/50k_lightbox_PWT_Thermo.scs.html
Credits:
baseec
DOWNLOAD 1 MB