Map of Russia (45 cities) and Belarus (12 cities)
Map version: 1.9:
– New cities: Balashiha, Tver
– New roads: R-33, A-159
– Added new prefabs, models and firms.
– Fixed bugs previous version.
– Some of the other changes.
Setup:
1. Downloaded files unzip archiver 7zip, click extract on the first
file, then unpack everything. All 5 files should be downloaded and
placed in the same folder.
2. Place all the unzipped files in the folder My Documents/Euro Truck
Simulator 2/mod.
3. To connect all files in the mods Manager.
Supported versions of the game:
1.30.x + DLC Going East! + DLC "Scandinavia"
Author: [email protected]
Author of new models: Gricko.
Used models mario1961.
Grateful for his klipstoeun8839 excellent model for maps.
Special thanks Gricko, for their help in the construction of maps,
correcting all the mistakes and shortcomings, as well as for new
objects that make the game atmospheric.
Thanks Vladzz-G for the correction of license plates.
Please save the original download link!!! DO NOT REUPLOAD!!!
Support:
DONATE:
PayPal: paypal.me/rusmap
Credits:
aldimator
DOWNLOAD 200 MB Part 1
DOWNLOAD 200 MB Part 2
DOWNLOAD 200 MB Part 3
DOWNLOAD 200 MB Part 4
DOWNLOAD 170 MB Part 5

The Diyarbakir Map came out.
What has changed?
3 New districts added.
The infrastructure is organized and independently created.
Cities have been reorganized and errors have been removed.
Scania volvo galleries added.
Diyarbakır was organized.
TR 21 plate was added.
version 1.30 also works NOTE: ALL MAPS DLC LERGEN REQUIRES.
Producer: Cengiz Akkaya
Diyarbakır Map çıktı.
Peki neler değişti.
3 Yeni ilçe eklendi.
Alt yapı düzenlendi bağımsız olarak oluşturuldu.
Şehirler yeniden düzenlendi hatalar giderildi.
Scania volvo galerileri eklendi.
Diyarbakır düzenlendi.
TR 21 plaka eklendi.
versiyon 1.30 da çalışır NOT: TÜM HARİTA DLC LERİ GEREKLİDİR.
Yapımcı: Cengiz Akkaya
Credits:
CENGİZ AKKAYA
DOWNLOAD 33 MB

Standalone map of the country Colombia, therefore a new profile must be created and the module apollo.mbd selected. The map has some deadly routes, dangerous curves and more, that you will discover on your way, I will be updating the map for new details, and you can see the progress in: https://www.youtube.com/channel/UCKQd2_RlF9pyEleckpDLVOw (Spanish)
If you want to support me and continue the project, you can leave a donation here: https://www.paypal.me/JhonatanPardoPardo Thanks!
I hope you enjoy it!
Credits:
JhonDeath.Col (Jhonatan Snaider Pardo Pardo)

This is the main version for now.
Future updates will take place only if important content it's ready.
LOG 1.2 VERSION
-new redendering values, no more landscape pop-up for the entire map; (MAIN UPDATE) – now you can enjoy the full panorama.
-2 new towns: Chisinau and Balti from Moldova Republic
-first steps in design improvements: removed part of low-res vegetation, reworked some roads, crosses, signs, vehicle and ambiental lights, city detail, buildings or even some missplacements.
This is gonna be work in progress for some time (always something to improve) but also the map expansion towards new territories.
-decent spawning frequency for romanian cars, no more police problem (sience last version)
-removed any traffic file from the map to avoid ( in some cases) the need to create a new profile. (i dont know a solution, i never experienced that and also i never seen a LOG file in that situation).
The map was tested alone
or
in map combo with TSM, RusMap, RK Steppe and Southern Region (with some fixes).
There is a separate folder with all the fixes for SR and also the custom ferry-connection with my map, available on
my Workspace
https://arayasets2mods.blogspot.ro/
SCS Forum Topic
https://forum.scssoft.com/viewtopic.php?f=32&t=250965
The load order of the map (or combo) it's in the photos included.
Many thanks to:
Alin Todor (materials and vehicles)
Jazzycat(vehicles)
FLD (map materials)
Cipinho (car/truck colours)
Credits:
Arayas

New updated version – fully working on 1.30 version game!!
NEWS:
– Added new cities
– More dangerous roads
– Fully optimized for 1.30
I hope you enjoyed it! 🙂
Credits:
VS Mods, Rodrigo
DOWNLOAD 236 MB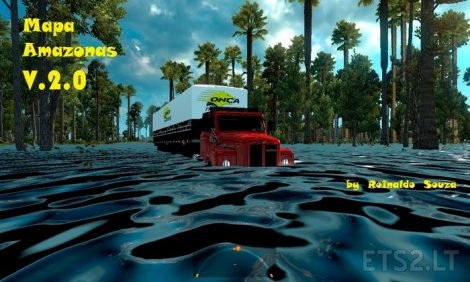 Map Amazonas v2.0 for Euro Truck Simulator 2, version 1.30, completely free and where we will find a lot of dirt roads, mud, swamps, swamps, landscapes along the trip, as well as rural areas in the labor market.
The map has a large number of existing roads in the state of Amazonas and interconnection, in addition to the city of Jacareacanga in Pará as a bonus for the map and connection to the Amazonas in Brazil.
Have fun!
Credits:
Reinaldo Souza
DOWNLOAD 395 MB