TWO VERSIONS:
STANDARD and for Promods 2.27
Log 1.5
-converted to 1.31.xx game version
-standard version and Promods 2.27 version
-few optimizations in redendering, mostly close to big towns.
-removed most of the low-res mountains
-road type/number in MAP view.
-fixed minor problems (including dealer in Sibiu, sleep area)
-added city of Burgas (that area will be the next developing area towards Sofia)
No new profile needed, finish your delivery.
Respect the loading order from photo included in ZIP package.
ROEXTENDED 1.5 FOR PROMODS 2.27
load order (see photo in zip) : PM-ROEX road connection, ROEXTENDED, PROMODS. You can use any other map compatible with Promods as before.
WARNING : LOADING TIME MAY BE LONG! (5-15 minutes)
DOWNLOAD ROEXTENDED 1.5 STANDARD
load ROEXTENDED first and any other map after. You can use just vanilla map or any map compatible with 1.31.xx version. No compatibility with Eastern Express or YKS.
A ferry connection with Southern Region will be provided when they are gonna update to 1.31
Credits:
-Alin Todor for romanian vehicle files and support
-Jazzycat for some romanian car models
-FLD for map materials
-Rusmap for adboard files.
Check my site for updates and fixes. https://arayasets2mods.blogspot.ro/
Credits:
Arayas


The map contains:
– A6 : from Sinsheim/Steinsfurt to Kupferzell
-A81: from Möckmühl to Ilsfeld
– Kreuz Weinsberg (exact rebuild)
– B27 from Lauffen am Neckar to Heilbronn including the "Neckartalstrasse"
– Weinsberger Tal
– a few tight places to maneuver your truck through
– new traffic system with a lot of Traffic on the Autobahn and less on local roads
– a lot of custom signs
***Things you shound know***
-Standalone map!
-Traffic mod is included!
To change the traffic density use the console command "g_traffic" command (0.1 – 10)
-Please report bugs if you find some
**DLC´s required**
– Going East
– Scandinavia
– France
– Italy
Truck Dealer List:
DAF: Fürfeld
Iveco: Sinsheim/Reihen
MAN: HN Industriegebiet
Mercedes Benz: HN Neckargartach, Westernach, Neuenstein
Renault: Untergruppenbach
Scania: Öhringen
Volvo: Bonfeld
Changelog:
1.0.4:
– support for patch 1.31
– B39 expanded from Willsbach to Wüstenrot
– B27 Industriegebiet – Heilbronn expanded
– added the first part of Heilbronn -> a road through HN to Untergruppenbach will follow
!!! NO REUPLOAD ALLOWED !!!
!!! KEEP THE ORIGINAL DOWNLOAD LINK, PLEASE !!!!
http://sharemods.com/2vdts51colyz/RMP-Heilbronn-1.0.4_1.31.rar.html
!Please report if you find another!
SCS FORUM LINK:
https://forum.scssoft.com/viewtopic.php?f=32&t=246187
Credits:
Klauzzy
Credits:
Klauzzy
DOWNLOAD 217 MB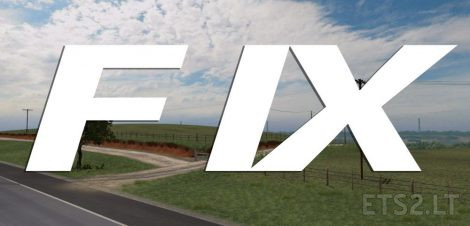 This mod will correct the crash when starting the map. Only use if you are having problems. Turn it on with maximum priority.
Credits:
Elvis Félix
DOWNLOAD 48 MB

Installation:
-Create a new profile;
-Enable the map and in the game mode option change to "eldorado.mbd"
Credits:
Elvis Félix
DOWNLOAD 624 MB

Changelog v3.3.0
-Correction of invisible walls on the road from La Paila to La Tebaida.
-Increased experience gained by free driving (ideal for buses or automobiles).
-Increased experience when discovering new areas on the map.
– Complete reconstruction of the stretch of Guayabetal to Quetama Bridge (Villavicencio – Bogota) including double carriageway, bridges and tunnels.
-Correccion of mountain that blocked the ascent to the hill of Guadalupe.
-Correction of invisible wall at the intersection to the rise of Guadalupe Hill.
-Inclusion of the route from La Tebaida to La Paila.
.Inclusion of the municipality of Nueva Quebrada.
-Inclusion of new names of places on the map via Gutierrez.
-Fix minor bugs
-Compatibility with ETS2 1.31
Independent Map of Colombia that contains some deadly routes, dangerous curves, ups and downs and more!, Download the 2 parts and locate the files in ETS2 mod folder and use the module apollo.mbd and start.
You can visit my YouTube channel for future updates and bug fixes: https://www.youtube.com/channel/UCKQd2_RlF9pyEleckpDLVOw
If you want to support me, you can leave a donation here: https://www.paypal.me/JhonatanPardoPardo
Thank you for your support!
Visit my Facebook, to communicate with the author and report bugs: https://www.facebook.com/JhonDeath18/
Enjoy the map!
Credits:
JhonDeath.Col

MajooouMap 1.7 for 1.31.x is a standalone REAL-SCALE MAP of Czech Republic.
DLC's East, North and France are required!
Compatible with other DLC's.
____________________________________________________________________
Changelog 1.7 for 1.31.x
• new road at Chvalnov
• new company in Míkovice
• roadworks in Zlechov
____________________________________________________________________
You can share this map but KEEP THE ORIGINAL DOWNLOAD LINK!
If you have any ideas how to improve the map, just let us know about it on our facebook page.
More infos on FB: https://www.facebook.com/majoooumap/
Credits:
Majooou_cz and Others
DOWNLOAD 1.12 GB