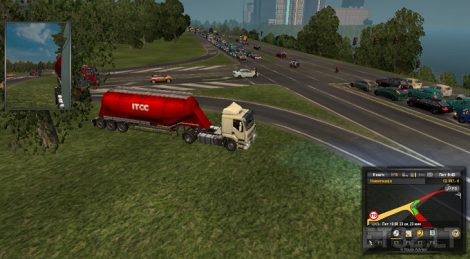 Because of many complaining of very confusing description and that all files in one archive, I decided to upload all files separately.
From now, I won't upload sharemods link for each file, but link which will lead you to page where you can choose files which you want to download, ask any question, report bug/crash and follow my work. There are all my mods (except this, less ferries, Island map, Improved semaphore cycles, zoom fix and longer brightness). I fixed crash in Rebuild Hungarian interchanges mod.
I will upload notification here when I will make update.
For administrators: Better traffic flow contain almost only map changes which help in better flow, so this is map mod.
Credits:
Brainiac

Adapted version : 1.26.x
Removed extra shields (where was the passport photo) all over the map.
Trucks default.
Installation:
Part 1 (def on top)
Part 2 (map below)
Watch the video.
Profile:
In the archive you have created a profile for those who have problems with creating a new one.
Who played on the old save to the r4, a standard module for europe, those can go on your profile and those who created profiles starting with r4 on the module bayikalr4.mbd, they create a new profile and start from 0.
Recommendations:
Pak Russian traffic from Jazzycat
Good luck Goba!!!
Credits:
Author : goba6372
Adaptation: _69_mf_

– minor edit, add fence, edit house, etc
Credits:
legiunnaire and more in file map
DOWNLOAD 5 MB
Hello everyone,
We present to you the restart of editions of the original map of Euro Truck Simulator 2. After the game update to version 1.26 a lot was lost and we decided that we should restart the map from zero, considering that we have much more experience in issues today Than the moment we started.
RCMAP 4.0 does not need Viva La France DLC, but requires DLC North Scandinavian Edition to work properly.
Let's list of issues:
Calais: South Coast;
Paris: SuperTop RedeTop;
Reims: SuperTop RedeTop;
Dijon: SuperTop RedeTop;
Bern: SuperTop RedeTop;
Geneve: SuperTop RedeTop;
Salzburg: SuperTop RedeTop;
Strasburg: RedeTop Supermarket;
Torinp: SuperTop RedeTop;
Venezia: SuperTop RedeTop;
Verona: SuperTop RedeTop;
Added new loads to the game.
FOR MODDERS:
Company folders to create new loads:
def /company/costa_sul_eu
def/company/sp_redtop_eu
BUGS:
We have many loads even though they are without direction, because they are orphans of the companies that existed in version 3.2, we will add more companies in the next version (ALPHA 2).
COMMUNICATION CHANNELS:
GROUP NO FACEBOOK: https://www.facebook.com/groups/rcmap/
PAGE ON FACEBOOK: https://www.facebook.com/rcmap/
CANAL NO YOUTUBE: https://www.youtube.com/c/RCMAPBRASIL
DO NOT RECHARGE AND DISTRIBUTE TO ANOTHER SERVER. RESPECT OUR WORK.
Credits:
RC TEAM
DOWNLOAD 237 MB

The Dutch Map 1.4 has arrived!
New cities:
Utrecht:
Utrecht
Nieuwegein
Maarssen
Overijssel:
Zwolle (Rebuilt)
A28 (Rebuilt)
Noord-Holland:
Julianadorp
Den Helder
Texel
Schagen
Alkmaar (Expanded)
Credits:
The developers of The Dutch Map: – Wessel – Guus – Sven – Alex – Rob – Daan Special thanks to: – Kerim: For creating this website – Rick: Founder of The Dutch Map – FLD: For the amazing prefabs – Maurice: For the police car – Blackopen – Stephan: Beta tester – Nportegies: For the AI emergency vehicles – Maarten/MandelSoft: For the lampposts and NBA direction signs – Nico (Promods): For his help and models – M95 (Promods): Technical help
Requires. DLC Going East, DLC Scandinavia, DLC Vive la France
New city,
– Puno
– Juliaca
– Taraco
– Huancane
– Perla
– Untuca
– Sina
– Massiapo
– Quiaca
– Limbani
– Camaron
– Yanahuaya
Credits:
Elvis Madariaga
DOWNLOAD 325 MB