Compatible versions: ETS2 1.34
——————————————————————————————
Supported trucks:
– MAN TGX Euro 6
– Mercedes Actros 2014
– Scania R 2016, Scania S 2016
– Volvo FH 2012
IMPORTANT: Buy a new truck and set high priority for this mod
——————————————————————————————
OLSF AWD/S Chassis Pack improves your truck adding better grip, handling, stability and fuel autonomy. Includes:
– All Wheel Drive (AWD) system
– All Wheel Steering (AWS) system
– Optimized weight distribution
– Extended fuel/AdBlue capacity
——————————————————————————————
Chassis included:
– OLSF iAWD 6×6 (only All Wheel Drive)
– OLSF iAWDS 4×4 ER
– OLSF iAWDS 8×8 ER
——————————————————————————————
Changelog (8.0):
– Support for MAN TGX Euro 6
——————————————————————————————
Credits:
OLSF
DOWNLOAD 18 KB

This mod requires ETS2 1.31;1.32; 1.33.x ; 1.34.x
follow me : https://www.youtube.com/channel/UCNQUUf21ntYwtktsE5xUCHg/?sub_confirmation=1
Version 1.2 :
Update to 1.34.x
Added MAN TGX EURO 6
This Mod Contain :
DAF XF
DAF XF Euro 6
IVECO HIWAY
IVECO STRALIS
MAN TGX
MAN TGX EURO 6
MERCEDES ACTROS
MERCEDES ACTROS 2014
RENAULT MAGNUM
RENAULT PREMIUM
SCANIA R 2016
SCANIA S 2016
SCANIA STREAMLINE
VOLVO FH 16
VOLVO FH 16 2012
DONATION (Not required, but highly appreciated)
https://paypal.me/alexdedu
Credits:
ALEXD
DOWNLOAD 75 KB

Autonomous
Own interior
Own sound
Its wheels
DLC Cabin Accessories Support
Update for 1.34.x
Authors: Lexan, Shumi, Vorsin09, Vladimir 1203, _69_mf_
Updated: Bo Ezduk
Credits:
Lexan, Shumi, Vorsin09, Vladimir 1203, _69_mf_, Bo Ezduk
DOWNLOAD 109 MB
Here's my version of the famous "The Griffin" Skin for the Scania T made by RJL. It's only for the Topline-Cabin!
I was looking for something like this but never found anything similar, so I decided to do my own version and wanted to share it with you,
Maybe you guys like it, too or you can tell what to do better next time.
Credits:
FunTrucker_18, RJL, SCS
DOWNLOAD 21 MB
Skin/Paintjob art for the new Man TGX.
Tribute to the greatest Brazil's (Maybe the World's too) F1 driver..
Tested on 1.34 (WORKS ONLY ON 1.34 OR NEWER)
Mod made in Brazil by Gabriel Faria
my FB Profile: https://www.facebook.com/gabriel.faria.cruz2
my mods page: https://www.facebook.com/GSModsOfficial/
my Youtube Channel: https://www.youtube.com/c/KsTrintaw
Credits:
Gabriel Faria (KS Trintaw/ GS Mods)
DOWNLOAD 714 KB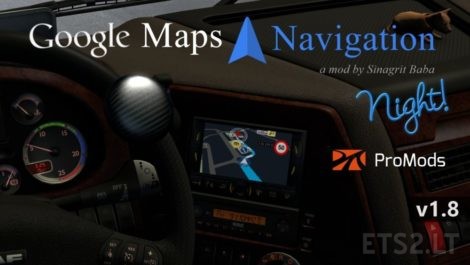 Euro Truck Simulator 2 Google Maps Navigation Night Version for ProMods mod updated to version 1.8!
What's new with v1.8
*Compatibility for 2.33 ProMods and 1.34 game version.
General Description
Mod changing the in-vehicle navigation screen with Google Maps Navigation Night Version.
Navigation screen colors, arrow and map icons have been changed.
Credits:
Sinagrit Baba