View Mods Categories >>
Repainteble metallic skin for SCANIA RJL v.2.2.2
Hpoe you like it.
Enjoy 🙂
Credits:
A.Mikhaylov
DOWNLOAD 21.4 MB
pack of 55 trailers
tested in beta 1.31
Credits:
nico
DOWNLOAD 74 MB
Kamaz 5490 v2.0 by [email protected]_1996
— Fix bages
— DLC Cab accessories
— New spoiler
— Find by Mercedes Dealer
— Metallic paint
— Game Version 1.31
Credits:
Sanya Sentyakov, region59, DANZ, [email protected]_1996
DOWNLOAD 322 MB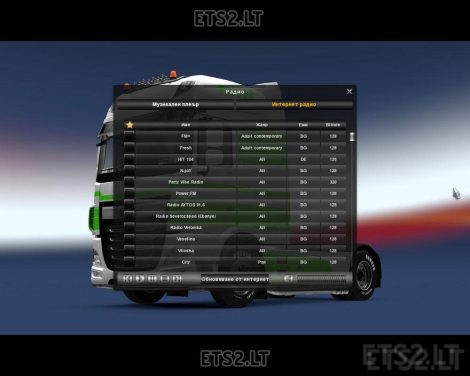 This mod add Bulgarian radio in Euro Truck Simulator 2 or American Truck Simulator. 100 % working , add new radios and fix download link !
Credits:
Nikolay Kolev – Nicko
Credits:
Nicko- Nikolay Kolev
DOWNLOAD 2 KB
ETS2 1.31x compatible (SGV Released version 1)
Few error confirmed using customized truck when Beta.
You have to sell older ones and buy again.
1.31new features not contained.
-add accessory Icons
-New grill emblem
-Steering wheel locator fixed
-Head Lamp,External Interior and High-roof Interior Reworked
-fixed shadow and UVs,
-additional accessory slots
You may put author names (Koutsu,Inonaka) when you re-upload and edit the mod.
Do not upload model files to 3D library site.
Model files can use non-commercial modding only.
Model License supplies by the onerous contract.
The author will take legal actions when you violate the license.
-Speedometer is different from actual speed.(Realistic setting)
-Left-hand traffic Interior only
-Japanese Domestic Market Edition
-MAN truck dealer (EU/UK)
Credits:
Koutsu, Inonaka, dorobuta
DOWNLOAD 17 MB
EuroTruckRadio Pendent Accessory – Working & Tested In 1.30
Can Be Put In Any Interior Truck Slots. Does Not Work On MP.
Support Us On Social Media:
Tweets by EuroTruckRadio
https://facebook.com/eurotruckradio
https://instagram.com/eurotruckradio
My Own Socials:
https://instagram.com/truckertom94
Tweets by TruckerTom94
Created By: TruckerTom, EuroTruckRadio
Thank you for downloading my modification.
Credits:
SCS, TruckerTom, EuroTruckRadio
DOWNLOAD 390 KB