This addition is intended for fans of unusual traffic and heavy cargo.
Also in the archive there is a similar add-ons for packs trailers with military cargo pack v.2.2.1 and railway cargo pack v1.8.1.
This additions increased the mass more then 100 cargoes (120).
Cost for certain goods been increased to 30%.
The main modes you can download on the website of the author (Jazzycat).
P. S. In the process of change in mass intensively used information from the Internet and the formula from school physics course – Mass = Volume x Density, and in some cases used fantasy:).
Weight of all locomotives corresponds to the real.
This mod does not claim to full realism.
Connecting in the game:
1. Plug mod map.
2. Connect the main mod (Jazzycat) in the game
3. To replace the file from the original mod similar file from my addons.
If you do the opposite may be the problem.
ATTENTION! WITHOUT BASE MOD WILL NOT WORK!
Credits:
Author of the main modes: Jazzycat Author of this addon: Tornado
DOWNLOAD 2 MB
My first skin since i've download ets2 studio,hope you're enjoy guys 🙂
Credits:
Ghostsell
DOWNLOAD 5 MB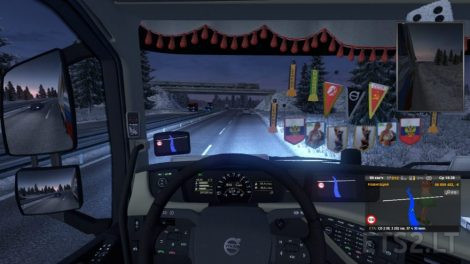 Radar Detector v 1.3 For RusMap.
This mod added radar detector (when approaching a speed camera voice warnson the radar).
For RusMap 1.7.2.
Tetsed 1.27.
Credits:
Zeddd
DOWNLOAD 47.8 MB

– Added tandem chassis
– Support for DLC "the Accessories in the cabin" (For fashion requires DLC "Accessories in the cockpit")
Standard and "high speed" transmission
– Converted PMG resources under the 1.27 patch.x
– Adaptation of residence under the 1.27 patch.x
– Standalone
– Dealer Volvo
– Interior-enabled DLC Cabin
– Sounds
– Wheels
– Tuning
– Clean log
– Tank 1000 liters
Tested 1.27
Credits:
koral, _69_mf_, Анатолий7469, серокс
DOWNLOAD 211 MB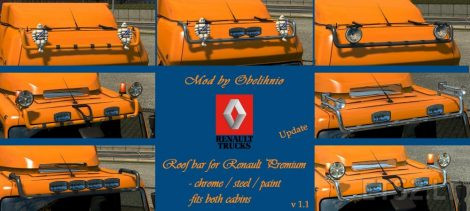 Update 1.1: Mod redone using the variant system, reduced size; added new slots
Update 1.01: minor tweaks to steel variant; all variants now use chrome mounting brackets
Mod adds a roof bar fitted to for both Renault premium cabins.
– steel/chrome/paint variant for high cabin
– steel/chrome/paint variant for low cabin
– 10 main slots for lamps/horns etc.
– 7 slots for marker lights
– additional variant for small cabin: 8 main slots, 7 marker slots; compatible with the front roof mirror
– [v1.1+ only] 4 extra slots for cabin mounted air horns/beacons (both cabins)
Compatible with SCS Renault Premium and other mods following the vanilla definitions
DO NOT REUPLOAD!
Mod is open to edits for private use.
SHARING THE EDITED MOD WITHOUT MY PERMISSION (Obelihnio) IS FORBIDDEN
Credits:
Obelihnio
DOWNLOAD 0.8 MB
Mod allows you to add icons and stickers to the vehicle. Includes over 250 icons in different categories – country codes, speed limit warning, ecology and others.
– More than 250 different icons
– Only for standard tractors
– Test on version 1.27
– Compatibility with other mods not tested
Credits:
tobrago
DOWNLOAD 74 MB