-Mod adds updated Iveco Stralis truck (replaces vanilla Stralis);
-Improved interior model (extenal and internal), added two new interiors (four interiors total);
-Improved truck model (both cabin and chassis), with new tuning options;
-Improved textures;
-New lightmasks;
-High quality engine sounds by Kriechbaum;
-New transmissions by Snoman;
-Standard and chiptuned engines available;
-Interior walking camera;
-Skin templates are included;
-Compatible with Direct3d and OpenGL;
-Clean log and so on…
Mod was tested on ETS2 1.28, not tested on older game versions. Mod is compatible with DirectXOpenGL.
Please do not reupload this mod to other filehostings and keep original link! It is prohibited to use any parts of this mod in other paid or free mods without author`s (AlexeyP) permission!
For suppport, search for a topic here: https://forum.scssoft.com/viewforum.php?f=35
You can support further mod development by donating via Paypal on this email: [email protected]
Credits:
AlexeyP, Kriechbaum, Snoman, SCS Software
DOWNLOAD 82 MB
Compatible Mod For Version: 1.28.x
Tested On 1.28.1.3 Passed !
Standalone Trailer
No Drop Frame
Bug`s Fixed.
Added Beacon Light For Trailer
The Wheels in This Version Has With Rotating
⛔️ Pls Dont ReUpload this File on other Host ⛔️
Enjoy It !
Credits:
SCS, MehdiAnti
DOWNLOAD 28 MB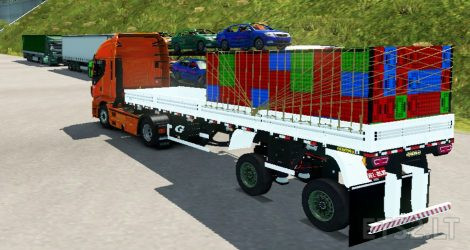 Trailer mod
This mod adds the vegetable trailer
found in aerodynamics trailer in the trailer browser
tested in v1.28
supports 1.28 and above
subscribe our youtube channel
don't change the download link
https://modsfire.com/y2w6N4l9KtBj52q
Credits:
BRANTAS
DOWNLOAD 28 MB

Scania Red&White Custom Skin for Scania RS 6series (RJL) Truck and Schwarzmueller SPA 3E Trailer+AccessoryParts
Scania Rjl MOD version for V2.2.1
Tested game version 1.28.1.3s
Accessory
– Lightbox , Sideskirts , Bullbar
– Wheel
–Window Sticker
Window Sticker

attention:
Prerequisite for the mod is that you have the Cabin DLC.
Credits:
-SCS Software
-Truck: Rjl
-Trailer: MarcDo
-Lightbox , Sideskirts , Bullbar: powerkasi
-Wheel: abasstreppas
–Window Sticker: Schullis Mod Garage
Credits:
ZERO922
DOWNLOAD 102 MB

This addition is intended for fans of unusual traffic and heavy cargo.
This addon increased the mass 65 Jazzycat's cargoes and 31 standard cargoes.
Cost for certain goods been increased to 30%.
The main modes you can download on the website of the author (Jazzycat).
This mod does not claim to full realism.
Connecting in the game:
1. Plug mod map.
2. Connect the main mod (Jazzycat) in the game
3. To replace the file from the original mod similar file from my addons.
If you do the opposite may be the problem.
ATTENTION! WITHOUT BASE MOD WILL NOT WORK!
Credits:
Author of the main mod: Jazzycat Author of this addon: Tornado
DOWNLOAD 1 MB
interior lights for all trucks
tested on 1.28 and 1.27
Credits:
hama2017
DOWNLOAD 908 KB