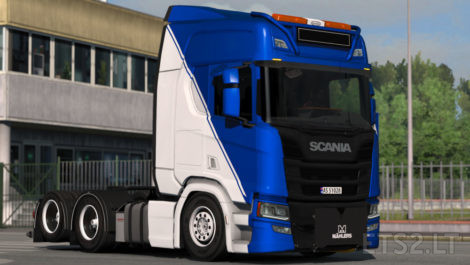 This is done to modify the chassis .
4×4 and 6×6 Low Chassis for Scania 2016 Trucks + 2000 liters Fuel Tank
The booth supports cables.
Work on 1.32, 1.33 & higher..
I hope you enjoy my work. 🙂
Credits:
Augustine
DOWNLOAD 14 MB

Updated to 1.33.x
Caravan trailer
Fixed mirrors
Fixed psychics
Credits:
trzpro, Çağatay Aksan, yellow1441
DOWNLOAD 48 MB
This mod requires ETS2 1.31;1.32; 1.33.x
Don't reupload this mod. Respect the original download link.
ALEXD 5500K Reverse Light – Support All Trucks !
————————————————————————————————-
DONATION (Not required, but highly appreciated)
https://paypal.me/alexdedu
https://alexdmods.blogspot.com/2018/12/alexd-5500k-reverse-light.html
Credits:
alexdedu
DOWNLOAD 50 KB
I bring to your attention; high-quality skin pack Cobra for Volvo vnl 2018. In the fashion of five skins. four of which change color, your choice and taste, except for the main set.
Test version 1.33xx
Attention! When distributing to other sites, be sure to specify the author's link!
Credits:
Author Karen Grigoryan
DOWNLOAD 6 MB

New features:
-Provided 1.33 compatibility
-Added Caravan trailer (You should buy own trailer first)
Credits:
trzpro, yellow1441
DOWNLOAD 34 MB
WORKS ONLY ON KRONE PROFILINER!!
———————————————-
DLC you must have:
Krone DLC
Mod what i recommend to use:
HM Immersive symbols
https://steamcommunity.com/sharedfiles/filedetails/?id=933552114&fbclid=IwAR32lKK6-e9hwKFM1P7g-GvbKC_Ql3Lwmi3TINIWflhvcjBnOSWEz8nGAzo
————————————————–
When trailer is connected to truck .. it's closed.
When trailer is disconnected from truck .. it's opened.
It's not the best quality i think but for basic playing it's good
————————————————-
New things added …
Doors are now skinned so you can use your skin normal and it will show in game
When you download the mod read description in mod manager!! There is way to get working skins on trailer.
Tested on 1.33.x
Credits:
SCS, Kazdiic
DOWNLOAD 54 MB