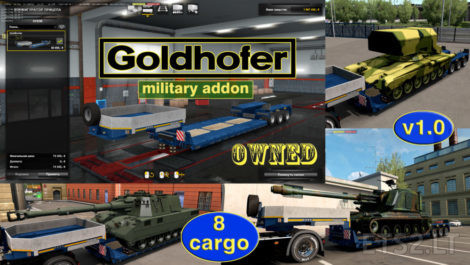 Adds military cargo for ownable overweight trailer Goldhofer
You need main mod 'Ownable Overweight Trailer Goldhofer v1.0'
Addod must be over main mod in mod manager.
Tested on version 1.33.x
Models by Eugen Systems, Obsidian Entertainment, Bohemia Interactive, Treyarch, Infinity Ward
Credits:
Jazzycat

=========== Romania Map by Alexandru Team ===========
Version: 0.2a
Requirements: 1.33.x version of game. NO DLC NEEDED !
================INFO================
The map is standalone to work you must make a new save and new profile.
The map is in alpha stage and come updates with new roads and new cities.
Map scale : 1:5
This version of the map contain :
? 16 cities : Arad, Timisoara, Lugoj, Nadlac, Pecica, Chisineu Cris, Lipova, Deva, Brad, Orastie, Simeria, Hateg, Petrosani, Bumbesti Jiu, Tg.Jiu and others
-600 km of realistic roads (made with Google Maps street view)
-realistic companies like Carrefour, Selgros, Ilia Plast, Bosh and other.
-realistic landscapes
-realistic monuments.
-walker crossing (the ai traffic stops when a walker is crossing)
-realistic water/waterfalls
-graphic mod (it chages the water when rains and a new skybox for the night)
======================= Contacts =======================
Facebook: https://www.facebook.com/RomaniaMapProject/
RomaniaElit : http://romaniaelit.ro/forum
YouTube : https://www.youtube.com/channel/UC_Xpdf … r4MsB6_ZKQ?
Forum : https://romap.blogfree.net/
Credits:
Alexandru, TZ Express (FLD : prefabs modeles), Arayas(signs),jazzycat Cipinho and Srele(for traffic mod)
DOWNLOAD 140 MB Part 1
DOWNLOAD 140 MB Part 2
DOWNLOAD 140 MB Part 3
DOWNLOAD 140 MB Part 4
DOWNLOAD 140 MB Part 5
DOWNLOAD 140 MB Part 6
DOWNLOAD 140 MB Part 7
DOWNLOAD 120 MB Part 8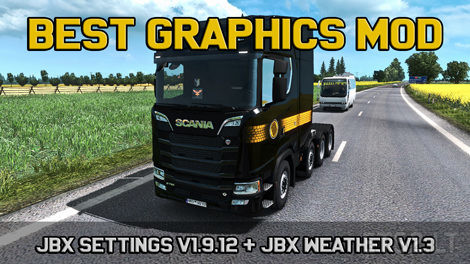 The post-processing effects of Reshade + JBX Settings v1.9.12 offer more realistic graphics and compatibility with many Games.
Features:
– Better Lighting
– Better Color
– Better Contrast
– No Pure White
– Sharpness and Focus
– Better Color Temperature
Changelog
8-12-2018:
– Added JBX Settings v1.9.12 – Better Clarity.ini
– Added JBX Settings v1.9.12 – Normal Clarity.ini
– Removed JBX Settings v1.9.12 – SMAA ON.ini
– Removed JBX Settings v1.9.12 – SMAA OFF.ini
– Updated PDF installation guide for Reshade
– Updated ReShade.ini
Note: The Preset Better Clarity offers a little more Clarity and Details compared to Normal Clarity.
Adjustments required* in the Game
– Anti-Aliasing (MLAA): OFF (*)
– High Dynamic Range: ON (*)
– Depth of Field (DOF): OFF (*)
– Rays of Sunshine: ON (*)
– Color Correction: OFF
– Anisotropic Filtering: Maximum
Adjustments required* in Config.cfg
– uset r_gamma "1" (Important)
– uset r_color_correction "0" (Optional)
– uset g_bloom "1" (Optional)
Path: DocumentsAmerican Truck Simulatorconfig.cfg
Path: DocumentsEuro Truck Simulator 2config.cfg
Note: Exit the game before modifying config.cfg
I recommend playing in the best graphic quality + 400% Scaling + Full HD
For better visual quality apply all the graphic settings I recommend. It affects the performance*
Compatible: Con la mayoría de los juegos – With most games
You can not use any JBX settings or copy part of them in other modifications without my authorization and credit.
KEEP THE ORIGINAL LINK. IT IS NOT ALLOWED TO RE-UPLOAD OR EARN MONEY WITH THIS MOD.
Credits:
JuanBonX (JBX Settings), CeeJay.dk (SweetFX), Crosire (Reshade and eFX)
DOWNLOAD 112 MB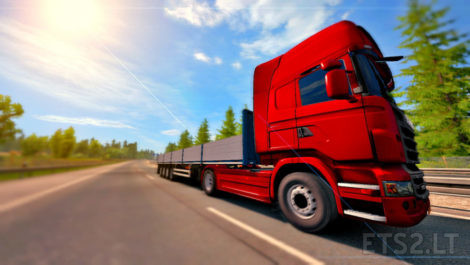 Extract winrar then put the scs file in ↓
My Documents → Euro Truck Simulator 2 → profiles folder
Tested 1.33
Respect my work, if share keep the original link,
More Images :
https://www.flickr.com/photos/[email protected]/
Follow my page for more awesome skins:
https://www.facebook.com/MohSkinner/
Credits:
MohSkinner
DOWNLOAD 721 KB
Transdev skin for Scania Touring by Muhammad Husni
Bus link: https://ets2.lt/en/m-husni-ep3-3-5-scania-touring/
Tested on 1.33
Obviously works with all versions 🙂
More Touring skin coming 🙂
Enjoy it !
Credits:
Hugo
DOWNLOAD 11 MB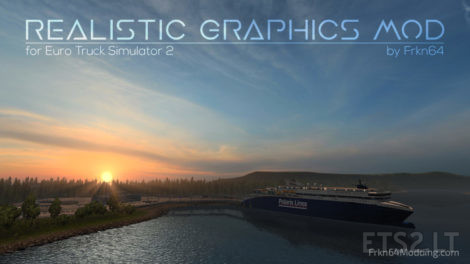 Visit our website to see more images or download add-ons for the mod: https://en.frkn64modding.com/ets-2-realistic-graphics-mod-v2-4/
========================================
This mod improves ETS 2 graphics for better realism.
Features
– 72 Realistic skybox textures in 4K quality
– Realistic shadows of the clouds
– Realistic in-game coloring
– Realistic light flares & reflection effects
– Realistic terrain textures
– Realistic rain & thunder sounds
– Realistic raindrop effects
– Realistic water textures
– Improved climates
*This mod increases frame rate.(Confirmed by many users.)
*Some skybox textures was made by SGate.
Tips for users
Tip 1: For more vibrant in-game colours, turn on the "Color Correction" option in the graphic settings.
Tip 2: To disable in-game bloom effect, turn off the "High Dynamic Range" option in the graphic settings.
Tip 3: For high quality skybox and road textures, set "Texture quality: High" in the graphic settings.
———————————-
UPDATE NOTES
v2.4 released. Changelog:
– All light reflection effects revised and made more realistic.
– All 2K road textures temporarily removed from the mod because of some issues. (Will be added again when problems solved.)
———————————-
REQUIRED GAME VERSION
v1.33.X
————————————————————————–
Please respect to labor by following these rules;
– Don't edit the mod files without permission.
– Don't change the download link while sharing the mod on another sites or YouTube etc.
– Don't upload the mod to your Sharemods/Modsfile etc. account for earn money.
Thanks in advance.
Credits:
Frkn64 Modding