View Mods Categories >>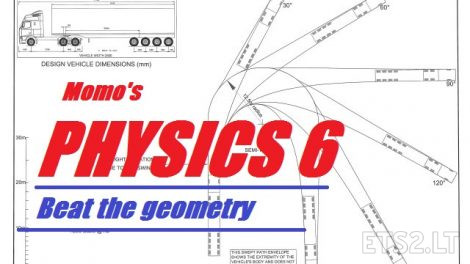 New in 6.0.2:
– Updated compatibility with 1.31.x
– Added compatibility for MadSter MAN TGX euro6 v1.21 (tractor)
– Fixed 8×4 nose dipping issue (sacrificing the front suspension by half)
WARNING: This version is for steering wheels only. Not suitable for joypad/keyboard.
——————————————————————————–
WHAT IS THIS MOD ? :
This is a realistic physics mod.
This mod does not include seat suspension, If you want more movement, get one of my "Air Ride" mods as an add-on. Find it in my collection:
https://ets2.lt/en/?s=momo
MAIN FEATURE OF THIS MOD:
Version 6.0
– The turning circle has been increased from vanilla 8.5 meters to 11.5 meters, closer real life trucks. The result is your trucks will need more space to complete a circle.
– Simulate steering wheel 4.9 turns lock to lock (according to real life Scania R specification) virtually, meaning you will not see your steering wheel make 4.9 turns but you will feel the compensation it makes to match 4.9 turns. The result is you your steering wheel will feel much more realistic (if you set the sensitivity/non linearity correctly).
– Steering ratio is increased from vanilla 12:1 to 20:1 closer to real life. Meaning your steering will be a lot smoother (if you set the sensitivity/non linearity correctly)
If you don't understand this information, never mind, just play it, you don't need to know. This mod is mainly for people who are looking for hardcore realism. If you don't like this feature, you are invited to use 6.2 or 6.3.
—————————————————————————————————-
CHARACTERISTIC OF EACH VERSION
1.0 – No longer available
2.0 – No longer avaialable
3.0 – Subtle movements
4.0 – Moderate movements
5.0 – Subtle movements
6.0 (Geometry series) – Subtle movements with all the steering ratio features, for wheels only.
6.1 (Geometry series) – Moderate movements with all the steering ratio features, for wheels only.
6.2 (Joypad Friendly) – A clone of 6.1 but without the steering ratio features. For both joypads and wheels.
6.3 (Active series) – Max movements with all the steering ratio features, for wheels only.
6.3 (Joypad Friendly) – A clone of 6.3 but without the steering ratio features. For both joypads and wheels.
Note: From 6.x versions onward, the seat suspension is not included but available separately.
——————————————————————————————————
USE INSTRUCTIONS & COMPATIBILITY:
1. Make sure you have enabled the "physics camera" in the game option menu. And its bar has been set to 100%.
2. (Recommended) Set the "Trailer Stability" to 0%.
3. Test and readjust your steering sensitivity/non linearity to your linking, as this mod heavily changed the steering angle and ratio. Recommended setting for 900 wheels is; 50% sensitivity, 75% non-linearity or somewhere close.
4. This mod must be higher than any truck mods, and any mod related to the trucks.
5. (Optional) For realistic feel of the speed, type "warp 0.8″ in the console command (without the " ") for FOV 80 degrees. The speed will be equal to real life. (re-do this everytime you start the game).
– Compatible with game patch 1.31.x and all DLCs.
– Compatible trucks: All SCS original, MadSter MAN TGX Euro6 v.2.1 Tractor, RJL Scania, RTA Renault T.
– (Very rare) Some engine mods may conflict with this mod. (engine mods linked to chassis)
————————————————————————————————-
All my external mods:
https://ets2.lt/en/?s=momo
——————————————————————————————————
USER AGREEMENT
Although all the intellectual property rights belong to SCS, But please respect hard works of the mod author.
The mod author does not give consent for anyone to:
– Re-post by any other download link other than the given link above.
– Re-post as is, as your own.
—————————————————————————————————–
DONATION (Not required, but highly appreciated)
Any amount (even one cent) of your kindness & support will be greatly appreciated.
https://www.paypal.me/aaticha
——————————————————————————————————-
HOW TO CONTACT MOMO ? :
Unfortunately friends invitations will be accepted on certain circumstances only. However, you can contact me through:
1. The comment section below. (Rude comments will be deleted)
2. Facebook fanpage: https://www.facebook.com/Momos-mods-365686307191461/
3. My Youtube Chanel: https://www.youtube.com/channel/UCEAtYWr0IodkLyO9W4tMbpg/videos?view_as=subscriber
4. My email: [email protected]
Credits:
Momo
DOWNLOAD 145 KB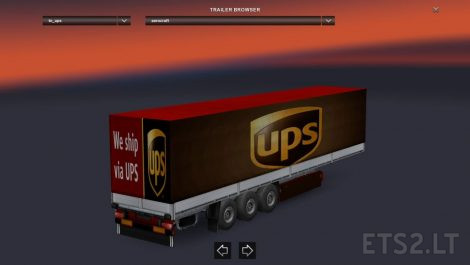 This is a new ups trailer!
*Ai traffic
*Reworked skin
Tested in 1.30, 1.28
Respect my work, if share keep the original link,
Enjoy 😉
Credits:
shaneK
DOWNLOAD 5 MB

1 cabin
2 chases
2 motors
1 gearbox
1 interior
3 spoilers
4 rims
3 rear bumpers
4 side skirts
4 front bumpers
New sounds
New physics
Credits: Metin Tınaz
Game Version: 1.31.x
Credits:
Metin Tınaz
DOWNLOAD 117 MB
This is a new OBI Trailer!
– Standalone
– Including AI Traffic
– Tested on 1.31 version but must works on other versions too
Credits:
VS Mods
DOWNLOAD 5 MB
TWO VERSIONS:
STANDARD and for Promods 2.27
Log 1.5
-converted to 1.31.xx game version
-standard version and Promods 2.27 version
-few optimizations in redendering, mostly close to big towns.
-removed most of the low-res mountains
-road type/number in MAP view.
-fixed minor problems (including dealer in Sibiu, sleep area)
-added city of Burgas (that area will be the next developing area towards Sofia)
No new profile needed, finish your delivery.
Respect the loading order from photo included in ZIP package.
ROEXTENDED 1.5 FOR PROMODS 2.27
load order (see photo in zip) : PM-ROEX road connection, ROEXTENDED, PROMODS. You can use any other map compatible with Promods as before.
WARNING : LOADING TIME MAY BE LONG! (5-15 minutes)
DOWNLOAD ROEXTENDED 1.5 STANDARD
load ROEXTENDED first and any other map after. You can use just vanilla map or any map compatible with 1.31.xx version. No compatibility with Eastern Express or YKS.
A ferry connection with Southern Region will be provided when they are gonna update to 1.31
Credits:
-Alin Todor for romanian vehicle files and support
-Jazzycat for some romanian car models
-FLD for map materials
-Rusmap for adboard files.
Check my site for updates and fixes. https://arayasets2mods.blogspot.ro/
Credits:
Arayas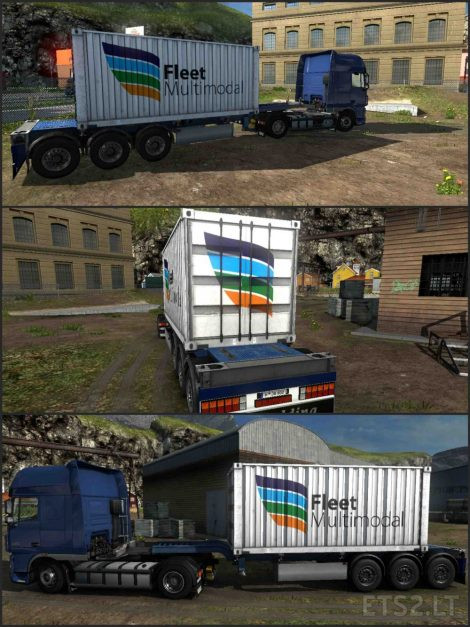 !! IMPORTANT !!
**Extract the folder
**Then put it into Documents > ETS2 > mod
Tested :
1.30
* Respect the download link *
– DO NOT REUPLOAD
– DO NOT CHANGE LINK
If there is any problem/ recommendation please contact me at:
https://www.facebook.com/groups/ETS2AR
More Skins Mods ici Here
https://www.facebook.com/groups/ETS2AR
Credits:
Melafdifi
DOWNLOAD 3 MB