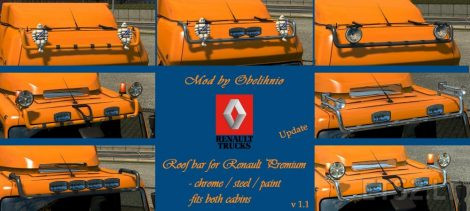 Update 1.1: Mod redone using the variant system, reduced size; added new slots
Update 1.01: minor tweaks to steel variant; all variants now use chrome mounting brackets
Mod adds a roof bar fitted to for both Renault premium cabins.
– steel/chrome/paint variant for high cabin
– steel/chrome/paint variant for low cabin
– 10 main slots for lamps/horns etc.
– 7 slots for marker lights
– additional variant for small cabin: 8 main slots, 7 marker slots; compatible with the front roof mirror
– [v1.1+ only] 4 extra slots for cabin mounted air horns/beacons (both cabins)
Compatible with SCS Renault Premium and other mods following the vanilla definitions
DO NOT REUPLOAD!
Mod is open to edits for private use.
SHARING THE EDITED MOD WITHOUT MY PERMISSION (Obelihnio) IS FORBIDDEN
Credits:
Obelihnio
DOWNLOAD 0.8 MB
Mod allows you to add icons and stickers to the vehicle. Includes over 250 icons in different categories – country codes, speed limit warning, ecology and others.
– More than 250 different icons
– Only for standard tractors
– Test on version 1.27
– Compatibility with other mods not tested
Credits:
tobrago
DOWNLOAD 74 MB
I share my mod which is original for the spoiler of scania RJL.
Does not work on serie4 and works on all versions of scania RJL.
For all Guadeloupe and Martinique.
Credits:
JDL TansLogis, RJL, powerkasi
DOWNLOAD 4 MB
Mod allows you to put on the standard bumper full-width mudguards for Scania S and R for ETS 2
▶ Works in MP.
▶ You do not need to buy a new tractor.
!! ATTENTION !!
▶ In MP, the tractor does not have to be tuned as the modification will fly off!
▶ Does not work without the Mighty Griffin Tuning Pack!
Subscribe to my group in VK "https://vk.com/sky.mods" there I also post mods for ETS 2 and ATS multiplayer.
Credits:
Black Sky
DOWNLOAD 21 KB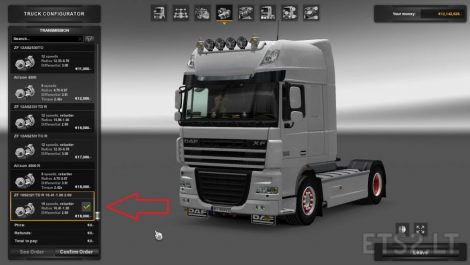 Hello,
This is a mod for Euro Truck Simulator 2, which adds a ZF 16S2321TD gearbox (with Retarder) to DAF XF 105. It's got standard differential for this truck, which is 2.69.
The gearbox has 16 speeds, which are displayed as 1L, 1H, 2L, 2H and so on.
Tested on ETS 2 v1.27 and v1.26, but it should work on older versions as well.
I'm the author of this mod (wojtek20082).
You can reupload it only with original link to mod.
You can modify the file for example for adding the gearbox for other trucks.
Have fun 😉
Credits:
wojtek20082
DOWNLOAD 23 KB
v 4.0 Update Log
===================
Add Transmission :
– Scania GRS 905/GRSO 925 Transmission With Crawler Gear
Update Transmission for 1.27.1.2s Game Version :
– ZF AS Tronic
– Mercedes-Benz PowerShift
– Volvo I-Shift
Transmission List
=====================
DAF/MAN/IVECO :
– ZF 12AS2330/1(2540/1)TD
– ZF 12AS2530/1TO
– ZF 16S2520/1TO
Mercedes-Benz :
– PowerShift G210-16
– PowerShift G211-12
– PowerShift G240-16
– PowerShift G280-16
– PowerShift G281-12
– PowerShift G330-12
Renault/Volvo :
– I-shift AT2612D
– I-shift AT2812C
– I-shift ATO2612D
– I-shift ATO3112D
– I-shift ATO3512D
Scania :
– GRS905 With Crawler Gear
– GRSO925 With Crawler Gear
Credits:
TKK5050-3Chome
DOWNLOAD 126 KB