New Flare for Scania v1.0
This mod improves Scania's flare.
1.Blinker
2.Brake
Mighty Griffin Tuning Pack is not supported, but will be added in the future.
Tested at 1.36x
Credits:
Shoya
DOWNLOAD 4 MB

ADDON BRAZILIAN PARTS 1.0 version
Tested on game version 1.36.x
Brazilian parts have been added to the mod as addons so it is necessary to use
from the original (EUGENE) mod.
NEXT TO THE RAR CONTAINS IMAGES OF THE DUMMIES (ACCESSORY BALLS) WHERE YOU WILL FIND THE ACCESSORIES DESCRIBED BELOW
Posted 27 Air conditioners
———- 04 Insuffil options
———- 02 Brazilian plates being red and Mercosur that can be edited in .DDS
———- 03 Solenoid Horn Options
———- 60 stickers on the inner and outer glass that can be edited by .DDS
———- 04 tanks directed to TRLR cables replacing the Original and with functional hoses
———- 04 hydraulic tanks that also replace or TRLR CABLES as well as coupling hoses to functional trailers
V2 BEING CREATED WITH CHASSIS HARD FOR BAU AND BODYWORK AND VARIOUS OTHER ACCESSORIES, BUT WHILE IT'S JUST THAT'S IT.
This is only the first version of the mod.
Credits:
Rafael Alves
DOWNLOAD 34 MB
-Hi guys this mod add new engines and sounds for master xbs daf 95 ati and daf f241 have fun
Daf 95 ati:
-Cummins VTA-903-T500 e2 15lt
-Cummins VTA-903-T550 e2 15lt
-CAT 3408A DI TA 450 e2 18lt
-CAT 3408B TA 500 e2 acert 18lt
-DD 8V-92TTA 335 12lt
-DD 8V-92TA 435 12lt
-DD 8V-92TA 500 12lt
Daf f241:
-CUMMINS NHS 430 Euro 2 14lt
-CUMMINS NHS 450 Euro 2 14lt
All torque curves fuel consumption,prices,other specifications adjusted have fun
Company trucks added with new engines.
HAVE FUN!
Credits:
voıth,Kriechbaum
DOWNLOAD 14 MB

Rigid chassis for Scania R RJL:
[*]Cabin guard
[*]Exhaust front
[*]Exhaust left
[*]Body Cover
[*]Crane guard
[*]Crane
[*]Pillars
[*]Cargo
[*]Grip holder
[*]Heavy Front Bumpr
[*]Front Light Guard
[*]Sideskrits
[*]Back Bumper
[*]Back Light
[*]Mud guard
[*]Fenders
[*]Chassis accesory ( Front L , Midle L+R, Rear L+R )
[*]Trtl cables
Credits:
Teklic, SCS
DOWNLOAD 276 MB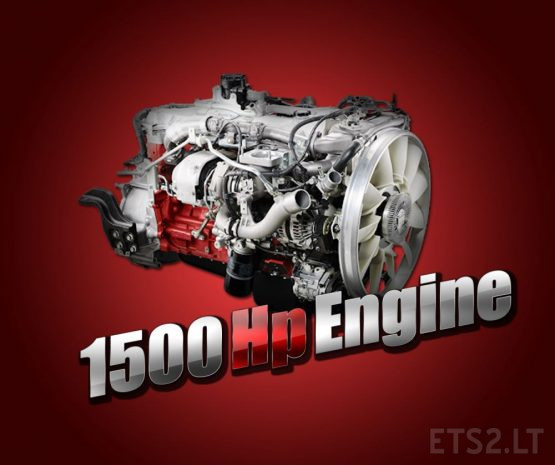 1500 hp Engine for All SCS Trucks v1.36
Engine:
hp: 1500
torque: 5000
rpm : 4000
Trucks:
daf xf
daf xf euro6
iveco hiway
iveco stralis
man tgx
man tgx euro6
mercedes actros
mercedes actros2014
renault magnum
renault premium
renault t
scania r
scania r/s 2016
scania streamline
volvo fh16
volvo fh16_2012
Respect my work and the original link If you want to share the mod in other sites ask for permission
Next mod will be 5000 hp
Credits:
Hisham Abed
This mod changes the fuel tank capacity for Renault trucks.
The capacity of the fuel tank is + 100%.
Place above other Renault mods.
For ETS 1.36
Credits:
AWal
DOWNLOAD 24 KB