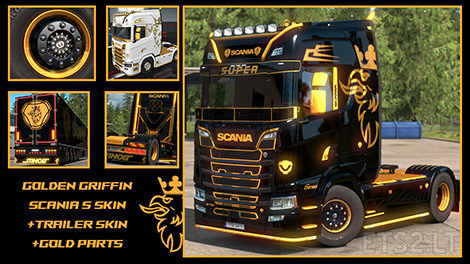 Comes with gold part,
The Skins only for the S high cab and the trailer skin for the ingame ownable trailers
Happy Truckin
Credits:
SirBlackyAlot
DOWNLOAD 22 MB

This mod requires ETS2 1.31.x; 1.32.x; 1.33.x; 1.34.x; 1.35.x
ALEXD 1000 HP Engine All Trucks
Follow me : https://www.youtube.com/channel/UCNQUUf21ntYwtktsE5xUCHg/?sub_confirmation=1
This Mod Contain 1000 HP Engine For :
DAF XF
DAF XF Euro 6
IVECO HIWAY
IVECO STRALIS
MAN TGX
MERCEDES ACTROS
MERCEDES ACTROS 2014
RENAULT MAGNUM
RENAULT PREMIUM
SCANIA R 2016
SCANIA S 2016
SCANIA STREAMLINE
VOLVO FH 16
VOLVO FH 16 2012
Man TGX Euro 6
New Tank Size For All Trucks with chassis
3000 L
4×2 (and all subdomains )
4x2_ext (and all subdomains )
6×2 (and all subdomains )
6x2_4 (and all subdomains )
6x2_midlift (and all subdomains )
6x2a (and all subdomains )
6x2a_taglift (and all subdomains )
6×4 (and all subdomains )
8×4 (and all subdomains )
DONATION (Not required, but highly appreciated)
https://paypal.me/alexdedu
Credits:
ALEXD
DOWNLOAD 141 KB
THE MOD WORKS WITH THE FOLLOWING DLCs
DLC_SCANIA
DLC_MICHELIN
DLC _DAF TUNING
ENJOY
Credits:
TUPAC-BOY
DOWNLOAD 23 KB
It's LED Board for MAN TGX euro6 by MADster.
MOD for game version 1.33/1.34
Credits:
Dominiko
DOWNLOAD 7 MB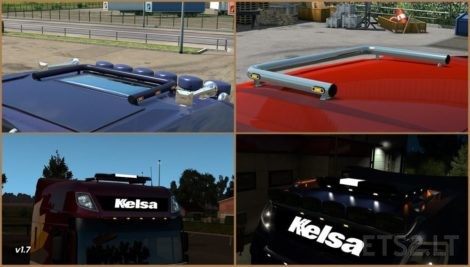 Changelog v1.84:
Support for 1.35 game version.
Parts included:
Roof:
BeaconBar (SSC cabs only)
Bakbar (cabins with spoilers only)
Bakbar High Mount (SSC Cabins only)
HiBar DH04 (SC cabins)
HiBar DH06 (SC Cabins); can be used with DH04 & DH07 HiBars
HiBar DH07 (SC Cabins)
HiBar DH12 (SC cabins)
HiBar DH11 (SSC Cabins)
HiBar DH08 (SSC cabins)
VisorBar (SSC cabins); can be used with the DH08 HiBar
Front:
Eurobar
LedBar (XF 106 only)
MiniBar
MultiBar
MultiBar XL
Chassis & truck cables:
Airbar (4 variants)
ChassisBar (both trucks)
LoBar
SideBar (4×2 chassis only)
WingBars (XF 105 only)
Accessories:
High power reverse work lamps for the Bakbars.
Illuminated LED name boards (both trucks, SSC cabs only)
To add custom lights to the airbar add the suitable_for[]: "exhaust_m" to the definitions, the Bakbars use the standard roof grill locators.
Credits:
obelihnio
DOWNLOAD 41 MB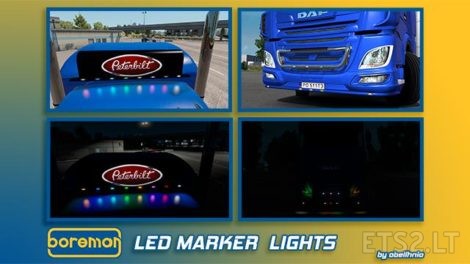 Changes v1.7
Update for 1.35
Compatibility with 1.35 game version; Added new "suitable_for" entries.
Features:
HQ 3d model
Custom flares
Custom light-mask
8 light colours: white, light orange, red, amber, blue, cyan, green, purple
2 strobe variants: strobes only or strobes + backlight
3 strobe modes: single alternate, left, right
Amber & red blinker variants – IMPORTANT- Red blinker has limited functionality in ETS 2
Installation: Copy the downloaded .zip archive, unpack it, place the included mod files in the mod folder.
Credits:
obelihnio
DOWNLOAD 2 MB