Skin for Scania S by SCS,
Works only on Highline cab,
Lightbox and sunshield texture included,
Required mods:
Flat sideskirts,
Big Lightbox V1.2
Extended sunshield
Respect my work, if share keep the original link,
Follow my page for more awesome skins: https://www.facebook.com/DavyBertoCustoms/
Enjoy!
Credits:
DavyBerto
DOWNLOAD 3 MB
Dirty skin DHL for Mercedes-Benz MP3 SCS.
Cab only supported MegaSpace.
Credits:
Yorque Oliveira
DOWNLOAD 852 KB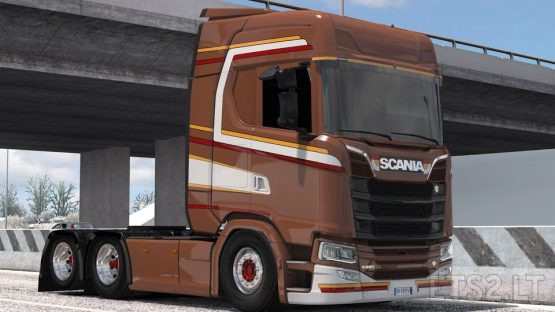 Tonerud designed Scania S, ONLY works on highcab on the S version of the NG. Do not reupload anywhere.
Credits:
Håkon Ånerud
DOWNLOAD 280 KB
Skin is maded for Scania S Next Gen by scs
it's tested on latest version of game
respect authors work keep original download link do not reupload
enjoy in game !
Credits:
Alexandar Lone Wolf
DOWNLOAD 7 MB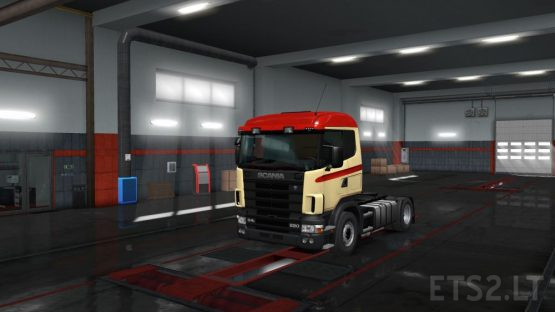 KMB (Kowloon Motor Bus) is a bus service operator in Hong Kong.
They do not own any trucks.
Skins design based on KCR 58 (Game)'s Simple Livery, with KMB colors.
Conversion to Scania R4 by LJ7006.
You must install 'KMB Livery For Scania R & S by RJL (V1.1) by KCR 58 (Game) first. The mod will NOT work without this mod!
Download link: https://ets2.lt/en/kmb-livery-for-scania-r-streamline-by-rjl-v1-1/
Put this file into DocumentsEuro Truck Simulatormod
Put this mod above 'KMB Livery For Scania R & S by RJL' in the mod manager.
Fit for all cabins.
Fit for all chassises.
Fit for almost all accessories.
Discover different combination yourself!
Use ONLY:
Stock Grills
Stock Grids
Stock Sideskirts
KCR 58 (Game)
https://www.flickr.com/photos/kcr58game2/
Conversion to RJL R4 by LJ7006
https://www.flickr.com/photos/avd1lj7006/
Credits:
KCR 58 (Game), LJ 7006
Credits:
KCR 58 (Game), LJ 7006
DOWNLOAD 13 MB
El Classic Scania RJL Skin
Skin for Scania by RJL
Work super on last version.
ENJOY
Credits:
Piki
DOWNLOAD 21 MB