Skin for Renault Range T, model RTA in version 6.2 or more. (Will not work properly with older versions)
Theme: Renault Trucks Meritor Racing.
Edition Darsh 71
Black color
Skin entirely made by Darsh 71, it is not allowed to modify it without asking its authorization (or do not make you take XD.
Do not re-upload to another site, you can share the original link at will.
Follow us :
* sur YouTube : Canal 19 Les Routiers sont sympa : https://www.youtube.com/user/lesroutierssontsympa/videos
* sur Twitch TV : https://www.twitch.tv/lesroutierssontsympa
* sur Twitter : https://twitter.com/Darsh_VII
Good road !
Credits:
Darsh 71
DOWNLOAD 21 MB
Scania RJL for yellow and black Regular Show Skin
Credits:
Mr.Erkvn
DOWNLOAD 5 MB
Leopard Skin for Trucks Kenworth K200 W900 Long
Tested in game version 1.26.5.1s
Credits:
Karen Grigoryan
DOWNLOAD 15 MB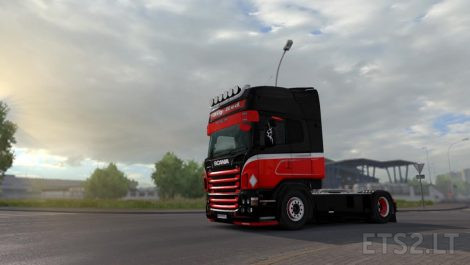 This is the Big Red Skin for Scania RJL. Please do not re upload.
Credits:
Bingo_7610
DOWNLOAD 21 MB

All Version
Test 1.26xx
It is compatible with original vehicle and built vehicles
Credits:
mmtt .SrqN.
DOWNLOAD 5 MB
Argo Style 9 M Skins for Truck Freightliner Argosy
Tested in game version 1.26.5.1s
Credits:
Karen Grigoryan
DOWNLOAD 7 MB