Find in Peterbilt (Access mod dealer)
2 cabin (Day Cab & Ultra Day Sleeper)
8 chassis (8 chassis (4 chassis are attached to the Day Cab (3 of them BDF) and 4 chassis are attached to the Ultra Day Sleeper (mainly truck)
14 engines
8 Transmission
His salon
its sounds
Its wheels
Many tuning
More than ten options for your skins
Full support for DLC Cabin Accessories
Support For Dx11
Changes:
– Full adaptation for 1.36
– Updated all 3D models for the new patch, fixed bugs found and cleaned up in the log
– Adapted for Dx11
– Added support for animation of hoses for all chassis (including hoses for trailers)
Inside the archive are: Peterbilt, and trailers
Trailers are only available in Agency orders, trailers can't be bought in ownership!
Log is clear! Version 1.36
Credits:
mo3Del Truck Game (mTG), adaptation for 1.36: Phantom94
DOWNLOAD 501 MB
-sound
-interior light
–
Don't edit
Don't reupload
1.34-1.35.-1.36
enjoy
Credits:
Taha Inanli
DOWNLOAD 35 MB

Mod replaces the default model of the Volvo FH16 2009
– Added new tuning
– New AO textures
– New animations EU and UK
– With permission of the author made adaptation mod under Signs on your Truck
– New engine badge
– New dashboard
Version 1.5:
– Fixed bugs
– New tuning
– New board computer
Allow copy on another forum but keep orginal download link and author! Do not reupload!
It is forbidden to spread on truck-sim.club
You can support my work if you want, it's up to you:
WebMoney:
E995344387655
R933187577117
Z551040538519
Yandex:
410012631986334
PayPal:
paypal.me/schumi222
Credits:
SCS, Schumi, Maniek4800, obelihnio, nfshp253
DOWNLOAD 33 MB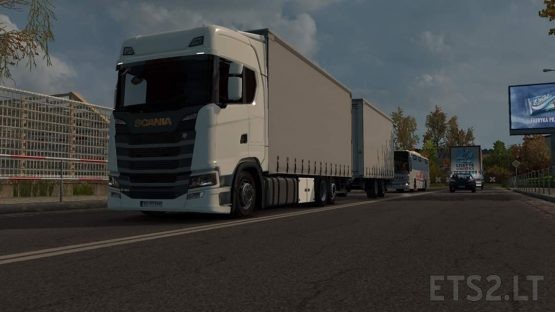 !! Don't reupload !!
the modification is not completed and you will find some errors. I hope it will be useful to someone.
Credits:
Stone, wojcik
DOWNLOAD 107 MB

This is new Hino AK 1J with 7 Fronts & 8 Backs. It is a premium mod. This was a sell mod but now this is free to use. 7 different front design and 8 different back are in there. Sounds are now fully realistic. Looking glass lights are added in front looking glass. Realistic fog light added.I will add 400 Skin and 100 Stiker on this mod very soon.
Hope that all guys enjoy it very much. Thanks
Supported : 1.31 to 1.36
Credits:
Rindray, RS Iqbal, SK Jobair
DOWNLOAD 140 MB
Here goes one more volvo !!! I hope you like the skin and good news will come in the future 😁😁😁
Credits:
Lucas Henrique
DOWNLOAD 105 MB