4 Cabins
13 Chassis, 7 Original + 6 New
6×2/4 normal Chassis + sideskirt + sidestripe + middle exhaust
6×2/4 long Chassis + sideskirt + sidestripe + middle exhaust + cabin coll
6×4 normal Chassis + sideskirt + sidestripe + middle exhaust
6×4 long Chassis + sideskirt + sidestripe + middle exhaust + cabin coll
8X4 normal Chassis + sideskirt + sidestripe + middle exhaust + cabin coll
8×4 long Chassis + sideskirt + sidestripe + middle exhaust + cabin coll
10 Engines, 9 Original + 1 New
999 HP Engine with badge
8 Original Transmissions
4 Original Interion
Over 230 Pait Job ( If you have all DLC )
Original Accessories + 4 different sideskirts + 2 different cabin coll (Paint + chrome / full chrome)
V8 light for driver & co-driver + 2 different middle exhaust ( If you have Mighty Griffin Tuning Pack DLC )
Original Interion Accessories + V8 light for driver & co-driver ( If you have Mighty Griffin Tuning Pack DLC )
Truck company and dealer, in UK also
======================================================
Fixes:
Bull bar location
Steer rear wheels location
Fog lights no more on
Better dashboard lights
Front bumper paint
======================================================
Note:
You must have Mighty Griffin Tuning Pack DLC
V8 light for driver & co-driver work on all cabins
Accessories work only on the modify chasses above
Have fun all of you 😀 😀 😀
Credits:
Remon
DOWNLOAD 13 MB

Big Stars adds Actros / Arocs SLT as separate vehicles!
– One 8×4 chassis in 3900mm length for both vehicles
– Bigspace in 2500mm width for both vehicles
– Gigaspace in 2500mm width for Actros
– Different fenders for both vehicles
– Several parts splitted to accessories
– Roofbars, new transmission, skins, and more …
For ETS2 1.27.X!
new in 1.4.4:
A first bunch of "heavy signs", for the upper part of the cabin.
addition of 1.4.3:
Adds scs smalllights for front slots.
Additional contributers:
Speedy143 (West of Scotland Heavy Haulage — Skin)
Lucas95 (Aertssen, Baumann, Blue Star, Bolk, Bögl, Vossmann, Zerges — Skins)
Youtube: https://www.youtube.com/user/thundermods
Facebook: https://www.facebook.com/Modsbythundermods/
Pateron: https://www.patreon.com/thundermods/
Have fun!
Credits:
WrittenExample, Thunderhawk, D4LYNCHHD
DOWNLOAD 128 MB

Reconstructed a low cabin and chassis with the formula 6×6, added 2 engines (260 and 360 hp), as well as 5 and 10-speed gearbox. There are several original accessories among which there are spoilers of three colors, a radiator grille of three colors, a reflective strip on the door, additional lighting equipment, in addition the front bumper can be repainted in color or in a combination of colors, and in the salon you can hang curtains.
Find in Volvo Dealer
Credits:
vlad5236
DOWNLOAD 81 MB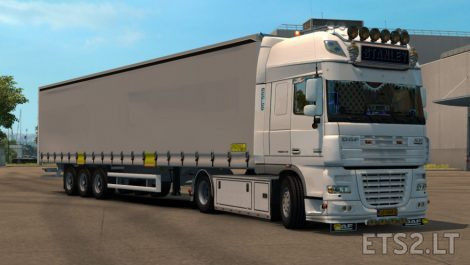 fixed model geometry pmg files,error log empty
Credits:
Stanley, Nelson Silva, 50k, SCS Software
DOWNLOAD 32 MB
4 Cabins
13 Chassis, 7 Original + 6 New
6×2/4 normal Chassis + different sideskirt + sidestripe + middle exhaust
6×2/4 long Chassis + different sideskirt + sidestripe + middle exhaust + cabin coll
6×4 normal Chassis + different sideskirt + sidestripe + middle exhaust
6×4 long Chassis + different sideskirt + sidestripe + middle exhaust + cabin coll
8X4 normal Chassis + sideskirt without sidestripe + middle exhaust + cabin coll
8×4 long Chassis + different sideskirt + sidestripe + middle exhaust + cabin coll
10 Engines, 9 Original + 1 New
999 HP Engine with badge
8 Transmissions
4 Interion
Over 230 Pait Job ( If you have all DLC )
Accessories + 4 different sideskirts + 1 cabin coll
V8 light for driver & co-driver + 3 different middle exhaust + cabin coll ( If you have Mighty Griffin Tuning Pack DLC )
Interion Accessories + V8 light for driver & co-driver ( If you have Mighty Griffin Tuning Pack DLC )
Truck company and dealer, in UK also
======================================================
Fixes:
Bull bar location
Steer rear wheels location
Fog lights off/on + location
Better dashboard lights
======================================================
Note:
You must have Mighty Griffin Tuning Pack DLC
V8 light for driver & co-driver work on all cabins
Accessories work only on the modify chasses above
======================================================
Have fun all of you 😀 😀 😀
Credits:
Remon
DOWNLOAD 15 MB

> Original Interior Marcopolo.
> Paintable
> AO baked
> Sound Marcopolo
> with Peruvian skins
> Works on 1.24.x – 1.27.x
> Acquire Dealer Scania
====================================================
Recommended to use with ets2 version 1.24 – 1.25 – 1.26 & 1.27.x
====================================================
RESPECT & SUPPORT THE WORK OF THE MODDER
====================================================
Full credits:
Models: Jozz
Converted: Linux
Edition in Blender & defs: Luiz 2510
====================================================
Credits:
Linux, Luiz2510 & S3D
DOWNLOAD MB