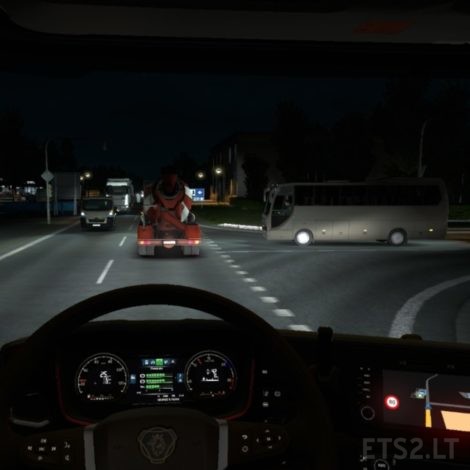 A small file reworking the spawn frequency of the AI. Keep in mind, this traffic it's obtained with g_traffic 1, the standard traffic unit for the base game. If you like pain increase this from 2-10. More trucks in the night, less cars and even less buses (see the video). In day time even more traffic, and hard traffic around 16.00 hours.
Place it above any map.
See the video for more info.
Credits:
Arayas
DOWNLOAD 44 KB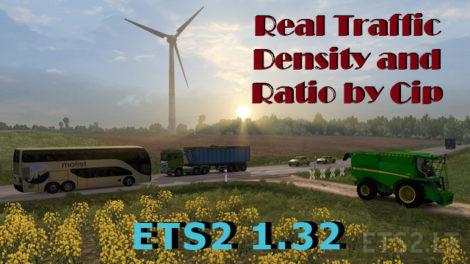 Forget about fake uploads for traffic density. here is my adaptation of my mod for 1.32. It was updated for a while on steam an scs forum here: https://forum.scssoft.com/viewtopic.php?f=177&t=249660&start=470#p983917
however as there are some crashes in ETS2 I had to be sure that these are not caused by my mod.
Credits:
Cipinho
DOWNLOAD 309 KB
-More realistic texture quality
-The drive face of the textures more realistic
-AI vehicles headlight textures make it more visible
Test Version: 1.32.X
[Do not Reupload Please !!!]
old mod that I made before:https://ets2.lt/en/hd-ai-traffic-color-drives-face-1-21-x/
Credits:
President10
DOWNLOAD 168 MB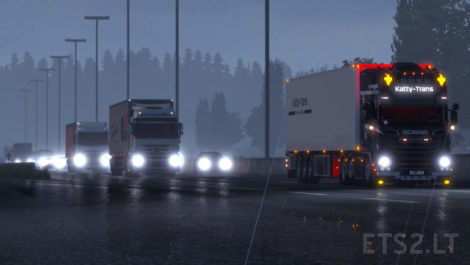 – This mod increases Traffic Density .(Confirmed by many users.)
– fixed some bugs in the Traffic
– This version works for 1.32 and 1.31
Feel free to upload this mod on other site's, but please use the original download link and credits !!
I hope you like the mod and good game
Credits:
ROBERT-SE
DOWNLOAD 4.3 MB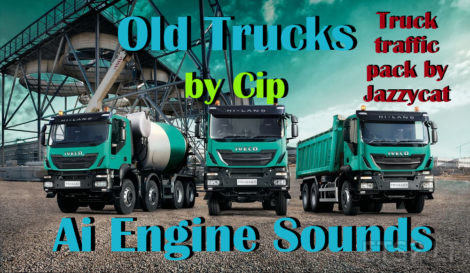 Jazzycat truck pack is one of the best traffic pack mods, a must have if you like to see more truck models in your game and especially old trucks.
besides personalized sound for all trucks in this pack, I increased the spawn of the old trucks and I adjusted max_speed and torque for some trucks.
according to the game version you are playing you must have the following mods in the following order :
for game version 1.32:
1. Old Trucks Ai Engine Sounds for Jazzycat truck pack 3.1.1 (unpack my archive)
2. Truck Traffic Pack v3.1.1 for 1.32: viewtopic.php?f=177&t=136930&start=350#p981532
for game version 1.31:
1. Old Trucks Ai Engine Sounds for Jazzycat truck pack 1.31 addon
2. Old Trucks Ai Engine Sounds for Jazzycat truck pack 3.1.1
3. Truck Traffic Pack v3.1 for 1.31: viewtopic.php?f=177&t=136930&start=330#p925533
if you want to keep the default spawn by jazzycat you could remove the folder def/country from my base mod
this pack includes few sounds from Drive Safely's pack Sound Fixes, mostly sound horns for which I offer to him well deserved credits in my mod
changelog v1.1:
corrected error in one file causing no spawn in 1.32
Credits:
Cipinho, Drive Safely, Jazzycat
DOWNLOAD 25 MB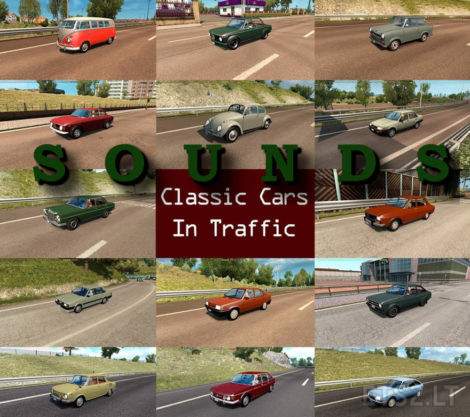 corrected spawn error that was caused by an extra line in one file
Credits:
Cipinho, TrafficManiac
DOWNLOAD 11 MB