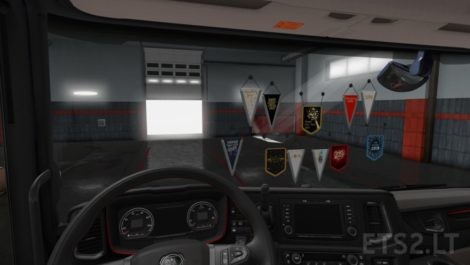 Pack of 11 indoor hanging accessories with new year designs.
Do not re-upload, thanks.
Happy New Year!!
Credits:
Maryjm
DOWNLOAD 525 KB
Game Version 1.33 ETS2
Pack – Xmas Trailer Ownership, Xmas Interior Addons – Pennants & Cube
Skins on request – https://steamcommunity.com/sharedfiles/filedetails/?id=1535173744
Credits:
CrowerCZ
DOWNLOAD 11 MB Trailer
DOWNLOAD 36 MB Cube
DOWNLOAD 280 KB Pennants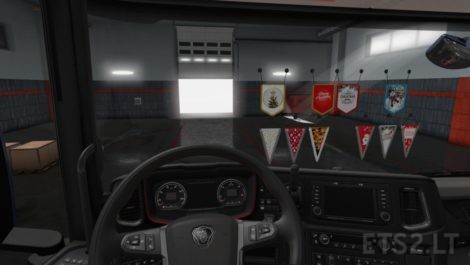 Accessories with Christmas designs to hang on the glass of the truck.
Do not re-upload, thanks
Happy Holidays!!!!
Credits:
Maryjm
DOWNLOAD 512 KB
Kazakhstan Pennant for ETS 2.
Tested in version: 1.33.x
DLC Cabin Accessories required!
Credits:
spikenn
DOWNLOAD 554 KB
Table Pack for Scania by SCS and RJL
Chrome, plastic, leather
Credits:
SGDESIGN
DOWNLOAD 15 MB
This mod adds to the store 10 new flags and pennants of unrecognized and limited recognized states:
Republic of Abkhazia
Nagorno-Karabakh Republic
Donetsk People's Republic
Azad Kashmir
Republic of Kosovo
Luhansk People's Republic
Republic of Somaliland
Republic of South Ossetia
Pridnestrovian Moldavian Republic
Turkish Republic of Northern Cyprus
Mod requires installed: National Window Flags DLC & Cabin Accessories DLC.
Credits:
SCS, CDS
DOWNLOAD 12 MB