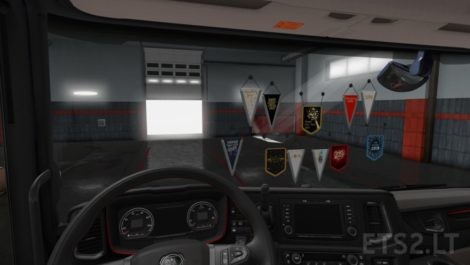 Pack of 11 indoor hanging accessories with new year designs.
Do not re-upload, thanks.
Happy New Year!!
Credits:
Maryjm
DOWNLOAD 525 KB
Game Version 1.33 ETS2
Pack – Xmas Trailer Ownership, Xmas Interior Addons – Pennants & Cube
Skins on request – https://steamcommunity.com/sharedfiles/filedetails/?id=1535173744
Credits:
CrowerCZ
DOWNLOAD 11 MB Trailer
DOWNLOAD 36 MB Cube
DOWNLOAD 280 KB Pennants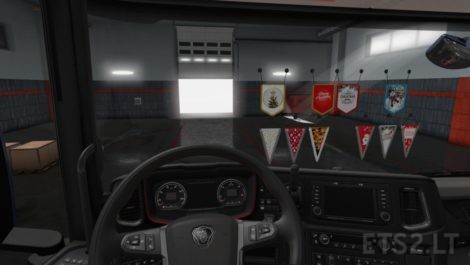 Accessories with Christmas designs to hang on the glass of the truck.
Do not re-upload, thanks
Happy Holidays!!!!
Credits:
Maryjm
DOWNLOAD 512 KB
Kazakhstan Pennant for ETS 2.
Tested in version: 1.33.x
DLC Cabin Accessories required!
Credits:
spikenn
DOWNLOAD 554 KB
Table Pack for Scania by SCS and RJL
Chrome, plastic, leather
Credits:
SGDESIGN
DOWNLOAD 15 MB
This mod adds (does not replace) two Central Institute of Aviation Motors pennants, a coffee cup and a journal to all standard truck.
Mod working only with DLC Cabin Accessories!
Credits:
SCS, Vahmurka
DOWNLOAD 11 MB