Table Pack for Scania by SCS and RJL
Chrome, plastic, leather
Credits:
SGDESIGN
DOWNLOAD 15 MB
This mod adds (does not replace) two Central Institute of Aviation Motors pennants, a coffee cup and a journal to all standard truck.
Mod working only with DLC Cabin Accessories!
Credits:
SCS, Vahmurka
DOWNLOAD 11 MB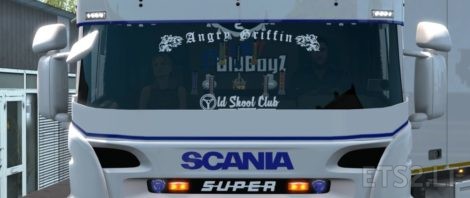 Scania vabis badge for RJL
DONT REUPLOAD TO OTHER SITE!!!
Credits:
Zsombii
DOWNLOAD 9 MB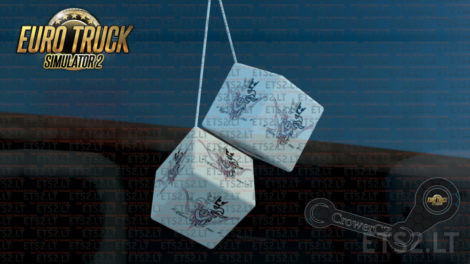 There is only one Cube – Interior Decoration ETS2
v.1.33
Credits:
CrowerCZ
DOWNLOAD 7 MB
Game Version 1.32 ETS2
Pack – Xmas Trailer Ownership, Xmas Interior Addons – Pennants & Cube
Skins on request – https://steamcommunity.com/sharedfiles/filedetails/?id=1535173744
Credits:
CrowerCZ
DOWNLOAD 11 MB Trailer
DOWNLOAD 36 MB Cube
DOWNLOAD 280 KB Pennants

Unpack and paste in folder "mod"!
Newly added (v.1.1)!!! Next Trailer Coca-Cola + Exterior Coca-Cola Flags
—————————
Coca-Cola Mega Pack – 3x Skin trailer Ownership – Interior Addons – Emblem, Cube, Pennants – Exterior Addons – Flags
Skins on request – https://steamcommunity.com/sharedfiles/filedetails/?id=1535173744
Game version – v.1.32
Garage Compatible: Basic Game, DLC Going East, DLC Scandinavia
No Compatible: DLC France & Italia
The garage is not part of the package!!
To download separately, here: https://sharemods.com/uio5apu15z5v/Garage_Board_Coca-Cola_by_CrowerCZ.scs.html
***********************************************
Mod Version: 1.1
Category: Trailer Ownership, Interior Addons, Exterior Addon
Size: Unpack Size 231MB
Original upload: ShareMods.com
Author: CrowerCZ
Credits:
CrowerCZ
DOWNLOAD 14 MB Full Pack
DOWNLOAD 6 MB Cube
DOWNLOAD Pennants
DOWNLOAD 11 MB Trailer
DOWNLOAD 11 MB Trailer Light
DOWNLOAD 11 MB Trailer Bottle
DOWNLOAD 6 MB Emblem
DOWNLOAD 78 MB Garage
DOWNLOAD 20 MB Flags