Tested on 1.27 versions.
For:
SCS Scania R&S
RJL Scania R&S
Offical page: https://www.facebook.com/ets2garaj/
Credits:
ETS2 Garajı
DOWNLOAD 45 KB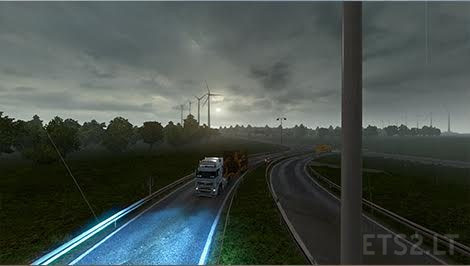 xenon light
colorfull light
green/red/blue/yello/purple/cyan
tested on ets2
Credits:
samo
DOWNLOAD 55 KB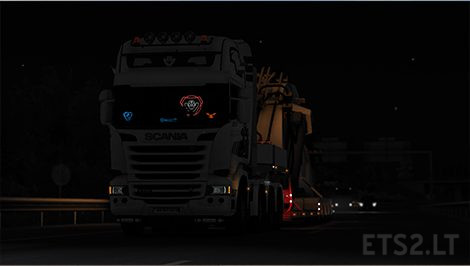 improved light pack
for all light
for all truck
tested on all version of ets2
Credits:
amir_dvg
DOWNLOAD 3 MB

Mod allows the installation of any paint on the cockpit and chassis 8×4 for ETS 2
—————————
▶ Who does not have any of these colors, then in the store it will be displayed without a picture, a convincing request not to install this color on your tractor "
—————————
▶ Works in MP!
▶ Some stains are not correctly applied to the tractor!
!! ATTENTION !!
▶ Install everything alone!
▶ Do not perform truck tuning in MP!
Subscribe to my group in VK "https://vk.com/sky.mods" there I also post mods for ETS 2 and ATS multiplayer.
Credits:
Black Sky
DOWNLOAD 1 MB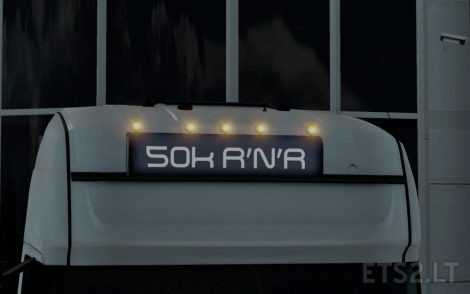 Test in 1.27
Lightbox whit lights on.
Credits:
50k and KKA Customs
DOWNLOAD 12 MB
Updated to work with new 8×4 chassis trucks.
Gearboxes with crawler gears will now show as 12+2 speeds instead of 14 speeds
Credits:
Snoman
DOWNLOAD 1 MB