View Mods Categories >>
Update my trailerpack to version 1.30.
trailers are in traffic too
place zip file in modfolder, do not unpack the zip!!
most parts made with blender, share only with origional link plz.
this mod wil work with my maters trailer, but it would be best to use some other trailerpacks too, or there are a lot of my trailers in traffic.
grtz Zeeuwse Trucker
Credits:
Zeeuwse Trucker / SCS / Roadrunner
DOWNLOAD 399 MB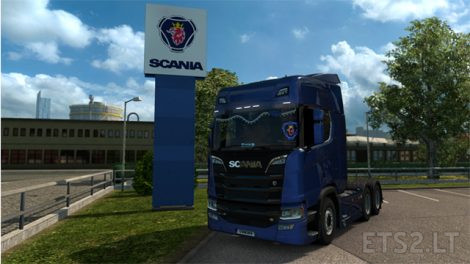 This mod adds the Mighty Griffin accessories to the scania R & S 2016 for use with TruckersMP [truckersmp.com] and singleplayer version 1.30+
Items Added:
Mighty Griffin Lightboard cabin
Mighty Griffin Lightboard windscreen
Mighty Griffin rear bumper
Mighty Griffin rear mudflap
How To use
Subcride to Mod
Activate on Mod Manager
Load profile with mod activated in singleplayer
Purchase truck of youre choice of 3 found in the Scania Dealership
Exit profile (if playing single player ignore stage 5-8)
Deactive in Mod Manager
Exit Game
Play TruckersMP
Credits:
CCT | Demon ™ (UK) | CEO
DOWNLOAD 90 KB
Whelen Liberty beaconbar v1.3.6 compatible 1.30
This mod have been tested on some trucks but not all of them, so you might find some bugs. If you find any, let me know.
Leave a comment if there's something you want to change, and maybe I do it.
-v1.3.6
-Minor changes, Ai beacon should(hopefully) work now.
-Some other small changes have also been made.
Have tested on 1.30 with only this mod active, no problems found no game crash.
Update 1.30 for ETS2 is needed.
Does this mod work in multiplayer? I don't know, because I don't play multiplayer.
You have to test it yourself and see if it works. If it works, good for you.
If not, there's nothing I can do about it.
Have fun & happy trucking
Credits:
Timon30
DOWNLOAD 40 MB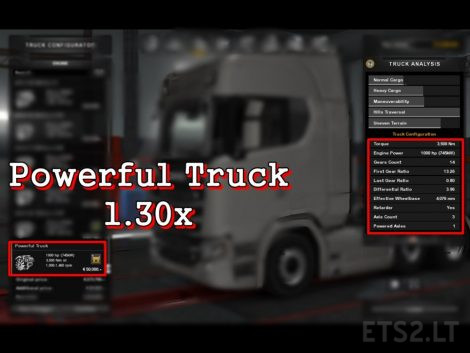 Tested : 1.30x
Added New Scania (R-S)
Name: Powerful Truck
Price: 50.000
Unlock: 1
HP: 1000
kW: 745
Torque: 4000
Rpm Limit: 2500
Credits:
YiğitE.
DOWNLOAD 33 KB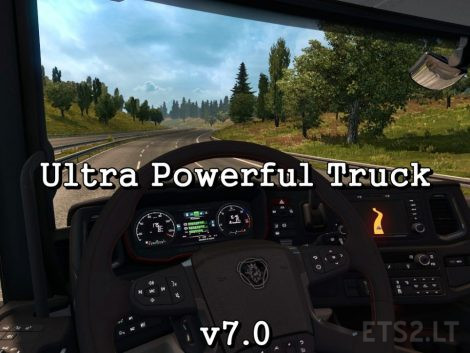 Tested : 1.30x
Added New Scania (R-S)
Name :Ultra Powerful Truck
Price : 50000
Unlock : 2
HP : 2500
kW : 1864
Torque : 8500
RPM Limit : 3000
Credits:
YiğitE.
DOWNLOAD 47 KB
Darth Veder Skin for Scania RS Longline Truck
Test version: 1.30
I wish you a pleasant game!
When you distribute to other sites, keep the author's link
Credits:
Aleksandro
DOWNLOAD 21 MB