=== Romania Map by Andu Team ===
Version: 1.3.1a (Alpha)
Requirements: 1.26 version of game.
===Information about map===
The map is standalone to work you must make a new save and new profile.
The map is in alpha stage and come updates with new roads and new cities.
===Modification in 1.3.1a===
-Fix all bugs caused by editor of game.
-Block the some roads who is not finished but appears on the world map.
-Remove cities without companies.
-Resolved GPS problem on the road between Targu Mures and Ludus.
===Know Bugs in 1.3.1a===
-Lack of terrain and lack details in some areas.
-Maybe invisible wall in some areas.
-New start cities maybe crash, change city or try more times.
=== Contact ===
Facebook: https://www.facebook.com/RomaniaMap
GamerLife: http://gamerlife.eu/
Credits:
AnduTeam, Tz express(FLD for prefab models), Frank007(Several Models)
DOWNLOAD 1.5 GB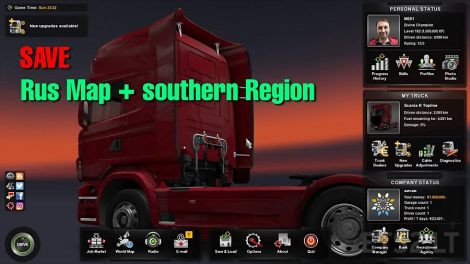 Save/saves (Money: 1.000.000$, level 162, on the map Rus Map + southern Region
Credits:
Dickersan
DOWNLOAD 535 KB
Version 4.2 FINAL:
* Now full compatibility to DLC Heavy Cargo Package
* File Heavy Cargo for EAA MAP included
* Fixes all bugs (due to problems with DLC France, Scandinavia etc.)
* Added several towns and roads in Brasil
* Updated some models
* Adapted for patch 1.27.2
Credits:
Roberto Restanho, Jhonatan Siebel, Luiz Ferreira, Tonho Nunes e Filipe Sampaio
DOWNLOAD 604 MB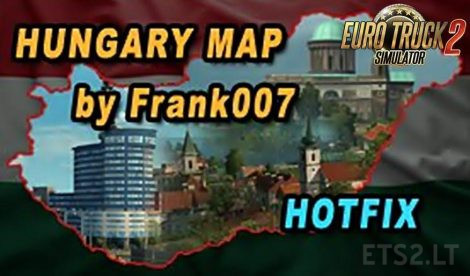 Quick fix for Hungary Map v0.9.28a and Ets 2 version 1.27.2.1 compatibility!
This patch eliminates the freezing of Hungary Map v0.9.28a during ETS 2 1.27.2.1 and 1.27.2.1s.
How to use:
Simply replace the "hungary_def.scs" file in the mod folder for this hotfix.
Note from the Author (indian56):
For the convenience of the new trailer of the "Heavy Cargo Pack",
I stopped the stopping surface of the "blue" gates opening automatically.
Credits:
Frank007, upd. indian56

I'm back with now mod! (I have done Nürburgring and Scandinavian Rebuilding mods.) France Expansion Map Mod adds new roads and cities to France! You need to have DLC Vive La France in order to use this mod. I will try to update the mod and add new content weekly.
New in this version:
– Mod released!
– New road from Golfech
– Apprx. 100 km road and couple tricky situations!
Mod works with 1.27 game version and needs DLC Vive La France.
You can support: paypal.me/maximate98
Credits:
Maximate98
DOWNLOAD 1.1 MB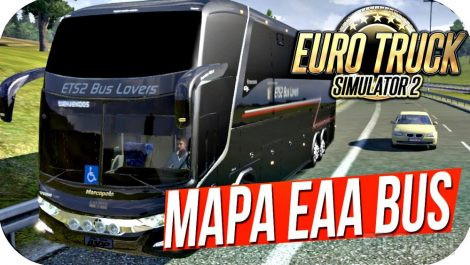 Version 4.2:
* Fixed all Bugs
* Added New Roads
* Edited Cities
Credits:
EAA Team