A new version of the Vanessa Pashmina MAP 4.1.
ChangeLog:
– Repaired some mats and textures.
– Repaired some bugs reported by users.
– Added Two Towns (Martinez de la Luz and Bosques de las Lomas)
If you use the Vanemap 4.0 and the Vanemap Fix, delete, and use the Vanemap 4.1 base only (contain the Base+fixes)
Credits:
Vanessa Pashmina (+) , Alta Tension MX.
DOWNLOAD 376 MB

– Deadly mountain roads.
– The car map
– Game module: Puno_Perú.mbd
It is required:
DLC Going East, DLC Scandinavia, DLC Vive la France, DLC Itali, Special transport.
Credits:
YanRed,Elvis Madariaga
DOWNLOAD 522 MB
Romania v0.1 by BranD
=Giurgiu added [REWORK]
=Bucharest Industrial park
Credits:
BranD
DOWNLOAD 232 MB

Status: Tested
ETS2 version: 1.36.xx
Updated DX11
Version Map: 1.3
SUBSCRIBE FOR FUTURE UPDATES
Channel Facebook: https://www.facebook.com/redgamer2020
Cities
1.- Ayacucho
2.- Culluchaca
3.- Huanta
4.- Paqcha
5.- Vinchos
Save game Created new: https://sharemods.com/920lvh9y2xro/79616E72656432.rar.html
Credits:
YanRed, Alcides Espino Sosa
DOWNLOAD 5 MB

Presenting the ICRF Reworked Map. It is a standalone map. This map is based on Indonesia Country Road Fever. I made compatible on 1.35. This is a realistic map of Indonesia. This map contains 3 cities of Indonesia connected by 1:1 narrow roads with full of beautiful road side view. Download link is given below.
Supported Version: 1.35.x.x
*[ Note: It is only for 1.35 & Profile is also given in this file. ]
There Is A Review Of This Map: https://youtu.be/fdn3dsd5bei
Please Subscribe My Youtube Channel.
Hopefully you guys will like it and appreciate my work. Please make sure to share the video if you wish to share the map & always support me for similar to this one!!!
Credits:
Map author: Adie (Indonesia) Map editor: Imtiaz (Bangladesh) Map convertor : Alice (Bangladesh)
DOWNLOAD 426 MB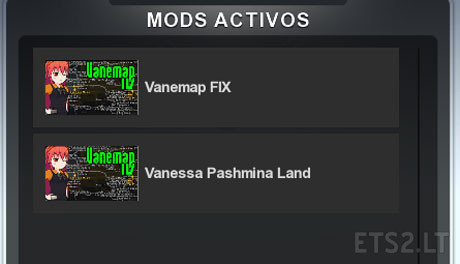 This Fix repair some issues with the ferries in the Vanessa Pashmina MAP. Causing the Truck and Trailer Crushes and Fly.
This pack contain 2 files: The fix and the new version of Ferries. Put the fix up the Vanemap Base
Credits: Alta Tension MX
Credits:
Alta Tension MX
DOWNLOAD 4 MB