A new version of my 1: 3 realistic N-Map.
You need East, North and France. Playable only with a new profile.
Changelog V1.5:
– Adaptation to version 1.33.x.
– renaming the "material" to the "model" file (must be replaced!), And it's now a smaller file
– The company mod has been removed
– Heaven's door added
– Airwalk now makes models for the map!
– new, better performance adjustments
– Fixed the problem not to start in Laatzen / general bug fixes
– New company in Laatzen
– Adjustment of order loads (now more available)
Credits:
Mapper: SN-map / er, Prefabs: FLD, Discord: Airwalk
DOWNLOAD 88 MB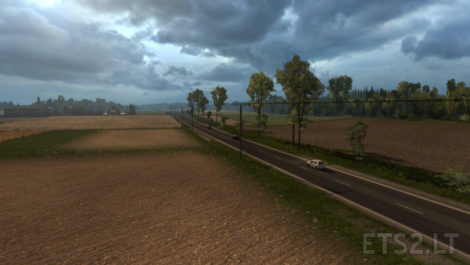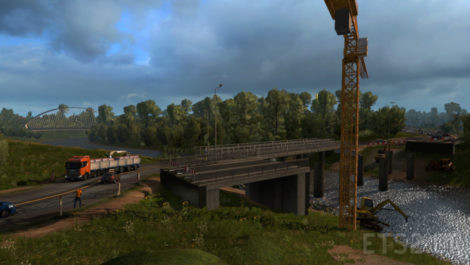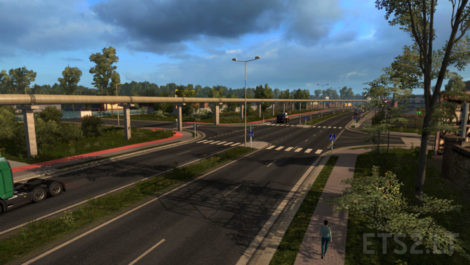 Poland Rebuilding is a map mod, that is an overlay, that turns boring Polish territories making them more interesting, real and demanding. Besides expanding the road network, it offers many new interesting cities, towns and villages to and from which you can easily take orders.
This modification REQUIRE:
* Promods 2.32
* DLC Going East, Scandinavia, Vive la France, Italia.
In this version DLC Beyond the Baltic Sea IS NOT REQUIRED
Changes:
* (2.3.1) Adapted map for ETS2 1.33 patch and ProMods 2.32
* (2.3.1) Support for translations
* (2.3.1) Bug fixes
* (2.3) Adapted map for ETS2 1.32 patch and ProMods 2.31
* (2.3) Added Ełk, Augustów and Suwałki by ProMods
* (2.3) Reconstructed special transport route (caused by cities added from ProMods map)
* (2.3) Added warning messages about demanding special transports for the heaviest loads. (Only for routes in PL)
* (2.3) New city: Przasnysz (hidden)
* (2.3) New road: DW544
* (2.3) Rebuilded city: Ostrołęka
* (2.3) Refreshed signs from Świnoujście to Gdynia (DW102, DW214, DK3, DK6/S6)
* (2.3) Part of the distance signs has been improved. From now, they show virtual distance to in-game city. (+/- few KM)
* (2.3) Changed road icons to be more realistic
* (2.3) Added 2 new ferry connections. Gdańsk (DK91) <-> Gdańsk (DK89) and Gdańsk <-> Helsinki (fictional)
* (2.3) Added cabin accessories
* (2.3) Bug fixes
Team PR:
DIESIRAE
GrakuPL
Michaleczeq
Djdarklighter
Sebavr6
Jakczo
Credits:
Poland Rebuilding Team

Euro Truck Simulator 2 – ROMANIA Map 1.5
For ETS2 1.33
AUTHOR: Mirfi
ROMANIA Map is proudly non-profit. I rely on donations to carry out my mission to make quality mods for free. Will you donate today?
DONATE: paypal.me/mirfi
NOTE: This map contains parts from my older Romanian map, parts which I've also used in my additions to the ProMods project. This map has nothing to do with ProMods and contains no ProMods assets though. This is a different project altogether. Big thanks to Tudor Alin for his Dacia Logan MCV model.
DLCs needed: Going East, Scandinavia, Vive la France, Italia, Beyond the Baltic Sea.
INSTALLATION: Extract "ROMANIA Map.scs" to "Documents/Euro Truck Simulator 2/mod". Activate the mod when launching the game.
Facebook: https://www.facebook.com/ets2romaniamap
SCS Forum: https://forum.scssoft.com/viewtopic.php?f=32&t=247766
Cities in Romania:
– Arad
– Bacău
– Baia Mare
– Bistrița
– Botoșani
– Brașov
– BUCHAREST
– Cernavodă
– Cluj-Napoca
– Constanța
– Craiova
– Deva
– Drobeta-Turnu Severin
– Focșani
– Galați
– Iași
– Mioveni (Dacia car factory)
– Oradea
– Piatra-Neamț
– Reșița
– Sibiu
– Suceava
– Timișoara
– Tulcea
© 2018 Mirfi ALL RIGHTS RESERVED
Credits:
Mirfi
DOWNLOAD 59 MB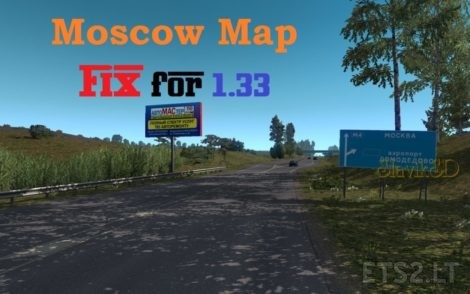 This temporary fix will allow you to run the Moscow map v13 on version 1.33
The log file shows errors, but they do not interfere with the game.
Place fix above all map files.
Credits:
Dmitry Povetkin, SlavikSD
This fix will add to the map a new port and a connection with Europe.
Works with Eldorado map v1.7.1 on ETS v1.32-1.33
Credits:
Elvis Felix, SlavikSD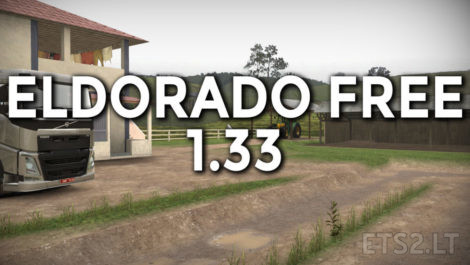 Map updated to the new version: 1.33.
Credits:
Elvis Félix
DOWNLOAD 441 MB