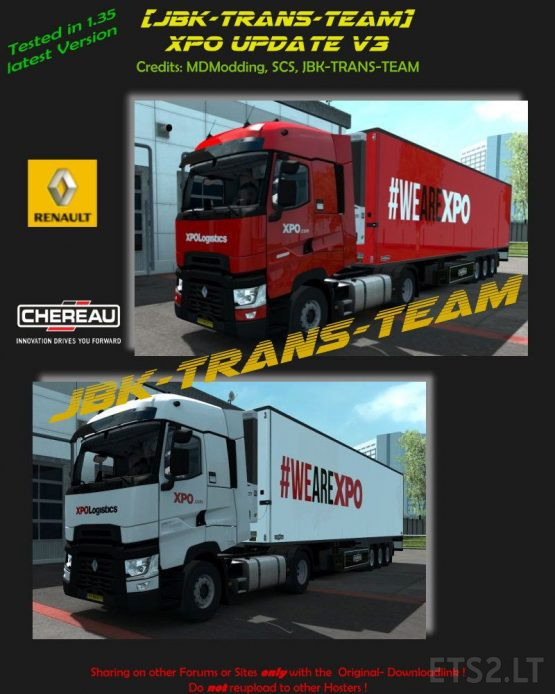 Credits: JBK-TRANS-TEAM, MDModding, SCS
Truck(s):
-SCS Renault T (Mod suitable for all Cabins)
—
Trailer(s) you need:
– MDModding Chereau
Skins:
– JoachimK
—
Tested in:
1.35.xxx Errors or Problems? contact (ed) jbk-trans [dot] eu
—
Eigenschaften Trailer:
– Owned, Purchasable ONLY, Advanced coupling, Animations brace, Animation cables
***You don´t need a Password, put in your Modfolder and activate***
—————————————————————————
THIS MOD IS LICENSED UNDER A CREATIVE COMMONS
ATTRIBUTION-NONCOMMERCIAL-NODERIVATIVES 4.0 INTERNATIONAL LICENSE:
https://creativecommons.org/licenses/by-nc-nd/4.0/
—————————————————————————-
ATTENTION / ACHTUNG:
Sharing on other Forums/Sites only
with the Original-Downloadlink !
DO NOT HOST ON OTHER SITES/SERVERS !
DO NOT REUPLOAD !
ALL OUR MODS FROM US HANDMADE. NO OTHER MODS ARE USED / COPIED / CHANGED FOR OUR MODS.
WE STILL USE OUR SEARCHES AND PERMISSIONS FROM THE COMPANIES:
WE ARE AGAINST MOD-STEALING !!!
Credits:
JBK-TRANS-TEAM, MDModding, SCS
Presenting you the AFC Ajax skin for renault Range T
For the AFC Ajax trailer you can use: https://sharemods.com/385sp74dduvb/AFC_Ajax_Krone_own.scs.html
For the trailer skin you will be need the DLC Krone
Credits:
Alex1973
skin for scania RJL tandem Hogenkamp with ownable 4m Ekeri trailer ,lightbox and painted wheels;mods needed:Ekeri semitrailer by Kast,Ekeri Tandem addon by Kast,Tandem Addon scania RJL by Kast,light and accessory by Powerkasi,RS Scania addons by Powerkasi,Abasstreppas wheel pack 3.0 .Thanks to Rasken for base mod and to AddyJ for trailer…you can share this mod on other site but use ONLY THE ORIGINAL LINK !!!
Credits:
AddyJ,Rasken,Leonox
DOWNLOAD 747 KB
Renault T Range Skin for SCS Truck.
Trailer Schwarzmuller DLC need!
FOR DONATE: https://www.paypal.me/bojidarow
Credits:
Bojidarov
DOWNLOAD 341 KB
Combo Blondel
Renault T + Krone ( DLC )
-All Cabins
-All Chassis
Don't replaod please
Thanks
Credits:
Kriistof
DOWNLOAD 968 KB
skin Martin Snel Transport for Scania by RJL with ownable scs trailer,for configuration like in photo you need:ligh and accessory by Poverkasi,[powerkasi] Scania RS Addons v.1.2 ,sunshield rjl by MB Truckstyling,SCS Trailer Tuning Pack v 1.4…thanks to Paolo T. for ispiration.You can share this mod on other site BUT USE ONLY THE ORIGINAL LINK !!!
Credits:
Paolo T.,Leonox
DOWNLOAD 362 KB