Expendables Truckskin für alle Zugmaschienen
DAF
__________
– XF EURO6
– XF 105
IVECO
__________
– Stralis
– Stralis Hiway
MAN
__________
– TGX
Mercedes
__________
– Arctros
– Arctros 2014
Renault
__________
– Magnum
– Premium
Scania
__________
– R-cab
– RJL
– Streamline
Volvo
__________
– FH16 classic
– FH16 2012
trailer update schmitz cool climber
Credits:
Don-Karlo & Luranya
Paintjob, of Arcese S.p.A.
The mod works exclusively on the Iveco Hi-way Truck
and Regular Trailer
Rights reserved to Anarchy Design
Credits:
Anarchy
DOWNLOAD 8 MB

It's been a very long time since I skinned a truk or trailer.
This is my first since "modern" ETS2 times, depicting USAGYUUUN Property of Quan Inc.
Credits:
Johndoe SiCKX
DOWNLOAD 20 MB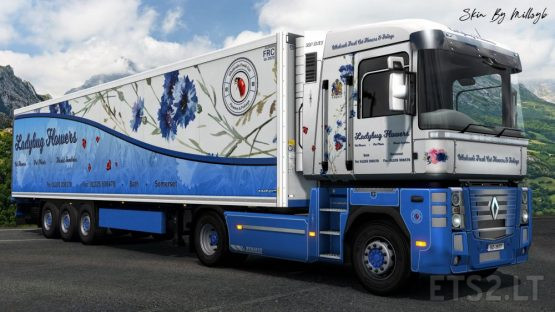 Ladybug Flowers Combo Skin
Uses IJ's Renault Painted Grills Mod
Krone Cooliner Only
For Version 1.36
Enjoy !!!
Credits:
Millsyb
DOWNLOAD 12 MB
Skin Pack for Range T and Owned Trailer, only long (136).
Credits:
Salsambo1001
DOWNLOAD 2 MB
Renault T komplett mit einem Trailer.
Game version: 1.36.x
Please don't reupload, keep the original link.
Credits:
Revanik
DOWNLOAD 563 KB