Made for version 1.35. For the EU, not for the UK.
Enjoy it, no outside view, made for V8 interior
Credits:
tunning6000

Some of your friends sell a paid mod for everyone to use myself to edit and share with you
Only applies to topline cabin or interior can overflow outwards Have fun
Subscribe to my channel and you can write your comments in the comments
Credits:
Rjl.yasin.calim
DOWNLOAD 101 MB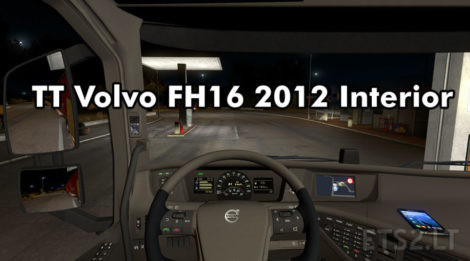 For 1.35 (Works with previous versions 1.31, 1.32, 1.33 and 1.34.)
This mod changes the interior colors of Volvo 2012. You can use it to get rid of Volvo's bad yellow. The steering wheel coating, which appears to be covered with a sponge, has been replaced by high-resolution coatings.
In this version the Pendragon Volvo interior is also supported.
Have fun
Tekteker Haydar
————————
1.35 (Geriye doğru 1.31 sürümüne kadar çalışır)
Bu mod Volvo 2012 iç mekan renklerini değiştirir. Volvo'nun berbat sarısından kurtulmak için kullanabilirsiniz. Süngerle kaplanmış gibi görünen direksiyon simidi için yüksek çözünürlüğe sahip kaplamalar kullanılmıştır.
Bu sürümde Pendragon Volvo iç mekanıda desteklenir.
İyi eğlenceler
Tekteker Haydar
Credits:
Tekteker Haydar
DOWNLOAD 3 MB
Daf-Dashboard Color:
Red
Green
Blue
Test In 1.34
Don´t upload this file on other hoster
Credits:
sina_t.h
DOWNLOAD 6 MB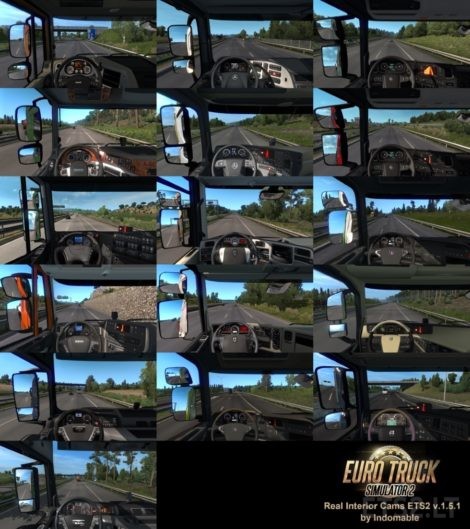 Real interior cams for all trucks v.1.5.1:
* DAF XF 105
* DAF XF
* Iveco Stralis
* Iveco Stralis Hi-Way
* MAN TGX
* MAN TGX Euro 6
* Mercedes-Benz Actros
* Mercedes-Benz New Actros
* Renault Magnum
* Renault Premium
* Scania R 2012
* Scania R
* Scania S
* Scania Streamline
* Volvo FH 2012
* Volvo FH16 2009
New in version 1.5.1:
* Compatible with version 1.35.1.1.
* Small adjustments in all trucks.
Doubts or configurations:
* For a better view of the cameras, use display formats in 16:9 (examples: 1920×1080, 1600×900, 1366×768, 1280×720, etc…).
* With the new "seat adjustment" it can modified the position the seat and the steering wheel, but they have a cap or limit, and also, does not allow adjust with detail the seat position and the steering wheel, so I have continued to update this mod with more precision, in a personal way.
* If it has been modified the position of the seat or steering wheel in the truck we drive, to run well the mod must be restored the seat position to its original settings, from inside the cabin click three times in the "F4″ key (seat adjustment) and click the "R" key to return to the default position of the seat and steering wheel. This is only necessary do it the first time and if it has been modified the seating position, if you have not already, it is not necessary.
* With the activated mod you can continue to modify the "seat adjustment" of the same mode as in the default game.
Tested on the game version 1.35.1.1
Credits:
Indomable
DOWNLOAD 3 MB
It only works on Scania 2016 R & S trucks.
Restart if you receive a plating error.
Tested on last version. Work super
Soon to another trucks !
Credits:
Jacintha
DOWNLOAD 3 MB