Tested Version: 1.34
Low Chassis 4×2
XXL Interior
If you see a possible bruise in the cabin, it will correct when you restart the game
Credits:
Samet Arıkan
DOWNLOAD 4 MB

-Standalone.
-Exterior/Interior view.
-Several steering wheels to chose from.
-2 variants, one with no exterior view and one with.
-Tested on 1.33 !
-Enjoy!
*Doesn't work with sleeper cab!
*The one for Schumi's Volvo has a bug, where the hatch from the roof is not present.
Schumi's Volvo: https://sharemods.com/qxqt8nz3oq79/cmi.volvo_fh09_schumi.zip.html
Do not reupload! Share with the same download links!!!
Credits:
SCS, Carmichael
DOWNLOAD 12 MB

Test Version : 1.33
Mercedes Actros Mp4 Lux Interior
Credits:
Samet Arıkan
DOWNLOAD 5 MB

Test Version : 1.33
The only difference between two interior .scs's is the Vabis 3-spoke steering wheel,insert whatever you wanna use
If windows get purpleish restarting the game will fix it
Credits:
Samet Arıkan
DOWNLOAD 26 MB
-what I've done to you is my new work.
test: 1.33.x
do not re-upload.
Credits:
president10
DOWNLOAD 1 MB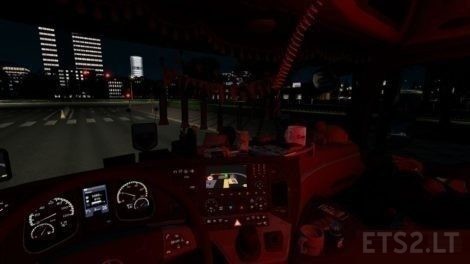 this is mod dont bug and bug fixed
new upgreade
work in 1.33
fix for all truck
work in all mod
have fun (;
bug fixed!
Credits:
Anohim
DOWNLOAD 43 KB