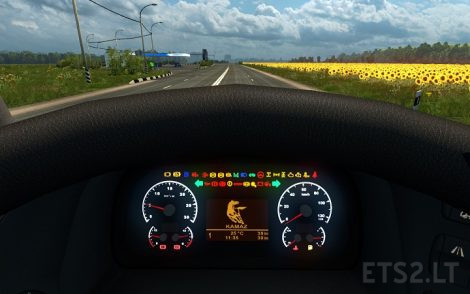 Here is dashboard for KAMAZ 5490 NEO. Was made by request.
Pack contain 2 dashboards on Russian and English version. Real is on Russian.
Information about this dashboard is too small in internet, so it in realistic – it looks like realistic. 😆
You need SOUTH REGION map version 7.0 for use this dash.
Credits:
Piva
This mod is from 1.27 versión game
Credits:
Panda161288 and ɢӘЯΛRĐΘ!!
DOWNLOAD 227 KB
— For ALL TRUCK —
— Red, Green, Blue, White, Orange —
— Better position of LED than last version —
Credits:
Flash
DOWNLOAD 93 KB
this mod is new color sisu interior black
Credits:
panda161288
DOWNLOAD 6 MB
Improwed Dashboard For Freightliner Cascadia Truck
– Increased resolution textures
– Increased brightness
Tested 1.23 Game version
Author: Карен Григорян
DOWNLOAD 7 MB
Bright interior for kenworth t680
Test versions 1.22.2.8
Credits:
sibiryak72
DOWNLOAD 0.9 MB