Good day for all!!
It's my first public mod, please don't kick me hard!
This micro mod removes the "MPH" scale from the MAN TGX E6 speedometer.
It works only for LL versions, of corse
Compatible with SCS MAN TGX Euro6 only.
Tested at 1.36, another versions – not guaranted.
Please keep the author links.
Note. This mod was published at the request of its author Matr.
Credits:
SCS, Matr
DOWNLOAD 950 KB
MAN TGX Black Interior
Tested on last version
Work super
ENJOY
Credits:
Pile4
DOWNLOAD 2 MB
MAN TGX Black Interior
Work super on last version
ENJOY
Credits:
File4
DOWNLOAD 2 MB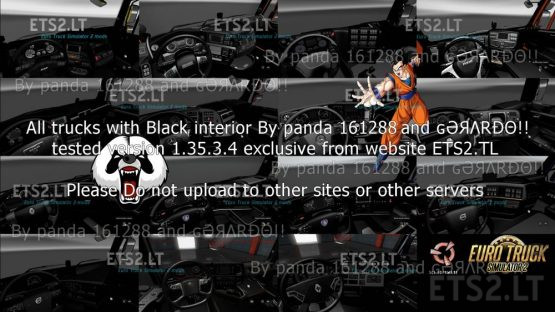 includes black color man tgx euro 6, scania S and remault range T
Credits:
panda161288
DOWNLOAD 11 MB
This mod changes the interior
have MAN TGX Euro 6 from MADster
on darker
will change all types of salon
added added leather to the seats
changes the red color of the dashboard to blue.
Changed the floor to a high-quality texture.
Changed the texture of the Mat
Install install mod
Changes in the interior MAN TGX Euro6 Blue
above the mod MAN TGX Euro 6 by MADster
Enjoy the game.
We kindly request without permission of the author to fill in for other sources. Thanks for understanding.
Credits:
Kuznetsov Mikhail
DOWNLOAD 7 MB
MAN TGX Black Interior
Work super on last version
ENJOY
Credits:
Lujko4
DOWNLOAD 2 MB