I know that there is some mistakes in this mod but am begginer .. :/
So if you want this mod work you must have Mercedes MP4 (Original SCS) Low cab and Exclusive Interior .. That's it (sorry for my English i'am from CZ)
Credits:
Kazdiic (me)
DOWNLOAD 50 MB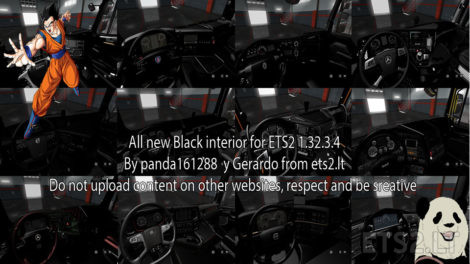 from new versión game, black interior from all trucks
Credits:
panda161288 & ɢӘЯΛRĐΘ ‼
DOWNLOAD 10 MB
Work on last version.
ENJOY
Credits:
File4
DOWNLOAD 2.6 MB
It is interior + dashboard color pack for Mercedes – benz new Actors'
This mod have:
Pink – Interior + Dashboard
White – Interior + Dashboard
Blue – Interior + Dashboard
Green -Interior + Dashboard
Red – Interior + Dashboard
Yellow – Interior + Dashboard
Colorfull – Interior + Dashboard
How to use :
First you need to extract zip file
When you extraxt you will see two files "Dashboard" and "Interior"
Copy all .scs mod and paste in "Document/Euro Truck Simulator 2/ mod" files
Next open games and activate mod which you want to use.
Game will crash if you use 2 or more Dashboard color also it will be same if you use more than 1 interior color.
Credits:
Mod By 27C
DOWNLOAD 26 MB

Carbon Fiber MP4 Black Interior by Francr2009
This interior replaces the Exclusive Stock Interior of MB Actros MP4
Includes:
*Black wood Floor
*Blue lights used for all buttons
*Carbon Fiber texture used for dashboard and Steering Wheel
*Gray soft leather for Seats
Note:
This version has red gauges needles , but they can be blue if requested.
This Version of the Mod Works with UK model.
Credits:
Francr2009
DOWNLOAD 2 MB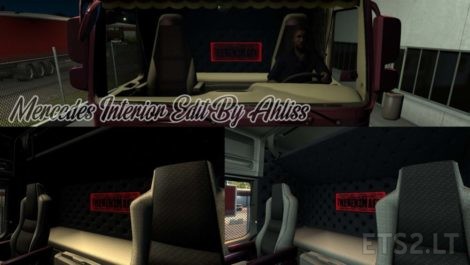 This mod is made by Capital, i have just edit the interior ?
Changelog v3.1
New interior with DRL led lights
Credits:
Capital
SCS
Sound made by Leen
Dashboard computer made by Piva
Custom Bumper Lights by Abasstreppas
Lightmasks for headlights by 50keda
Def-file fixes by CobraBlue6
Credits:
Capital SCS Sound made by Leen Dashboard computer made by Piva Custom Bumper Lights by Abasstreppas Lightmasks for headlights by 50keda Def-file fixes by CobraBlue6 Interior by Ahliss
DOWNLOAD 120 MB