Kenworth W900 Long Cabin Accessory
Tested in game version 1.26.4.3s
Credits:
SCS, SiSL, Karen Grigoryan
DOWNLOAD 3 MB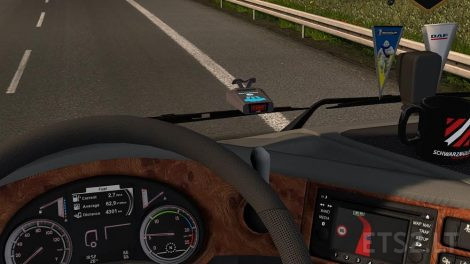 Mod adds a radar detector which beeps when approaching a camera! The mod will work everywhere where we have used the default camera models!
Supported versions of the game:
1.26.x + DLC Going East + DLC Scandinavia + DLC Vive la France
Allow copy on another forum but keep orginal download link and author! Do not reupload
Credits:
Schumi & SCS, CsewS
DOWNLOAD 4.3 MB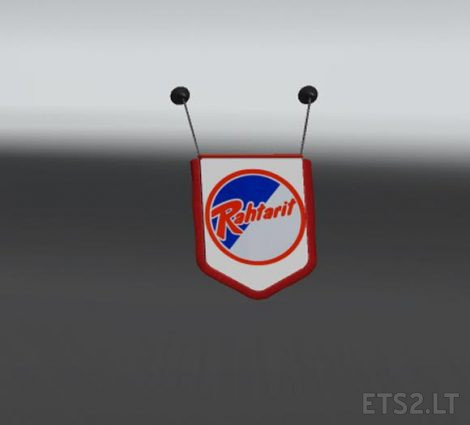 This is Pennant Rahtarit, for all trucks
tested ets2 1.25
Credits:
oswald
DOWNLOAD 50 KB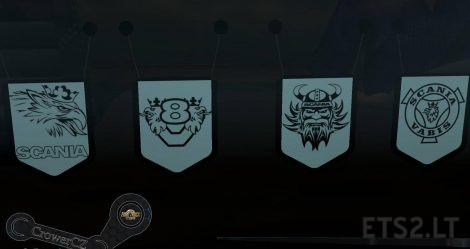 Scania Pack Pennants Interior Addon
Mod working only with DLC Cabin Accessories!
All Pennants Slot
– Scania Vabis
– Scania V8
– Scania Eagle
– Scania Viking
https://www.facebook.com/CrowerCZ
https://www.youtube.com/user/TheCrowerGames
Credits:
CrowerCZ
DOWNLOAD 247 KB Complete Pack
DOWNLOAD 396 KB Scania Viking Pennant
DOWNLOAD 396 KB Scania Vabis Pennant
DOWNLOAD 396 KB Scania V8 Pennant
DOWNLOAD 396 KB Scania Eagle Pennant
This mod adds an red lighted poppy for the toy stand.
It works with every scs truck and with the RJL 2.0 modification and with the Ohaha Volvo 2012.
tested on 1.25 and 1.26
For the glowing effect you need a graphic mod
Credits:
NFG Trueno
DOWNLOAD 289 KB

Tested for all SCS Trucks
– DAF
– DAF Euro 6
– Iveco Hiway
– Iveco Stralis
– MAN TGX
– Mercedes Actros
– Mercedes Actros 2014
– Renault Magnum
– Renault Premium
– Scania R
– Scania Streamline
– Volvo FH16
– Volvo FH16 2012
not tested
– RJL Scania
– DAF XF 50K
– Sisu R500
– Scania R700
– Scania T
– Ohaha Volvo FH 2013
– Scania S 580
Test version 1.25.х – 1.26.3s
Credits:
Author: V8K-Blaine, SCS
DOWNLOAD 12 MB