Skin Streamline for "Scania 143M – Edit by Ekualizer"
Changelog:
● Change resolution from 2k to 4k
● Line redesign
● Color adjustments
Tested on 1.27.x game version
Thanks Ekualizer for the truck!
The truck can be found at: http://forum.scssoft.com/viewtopic.php?f=35&t=187840&sid=b973aab7a25a00cb68e5d3bd0df3ca77
Boa Viagem!
Credits:
umdiegoqualquer
DOWNLOAD 105 KB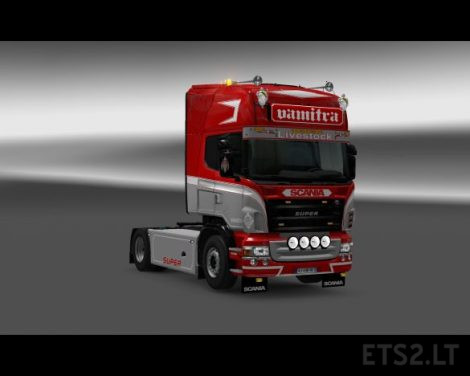 Vamitra skin for scania R by Rjl V 2.2
Works only on topline cab,
Respect my work, if shae keep the original link,
Enjoy!
Credits:
DavyBerto
DOWNLOAD 249 KB
This skin is maded for scania RJL V2.2
It tested on 1.27.2.1s version of game
respect authors work plese do not reupload
Enjoy"
Credits:
Alexandar Lone Wolf
DOWNLOAD 282 KB
DAF XF 105 Agenau Group skin
Test on v 1.27
Credits:
Cruise
DOWNLOAD 21 MB
S.A Heylen Transport Skin for Scania RJL Truck.
This skin is maded for highline cab.
Skin is tested on 1.27.x version of game.
Respect authors work please do not reupload.
Credits:
Kuna_01
DOWNLOAD 227 KB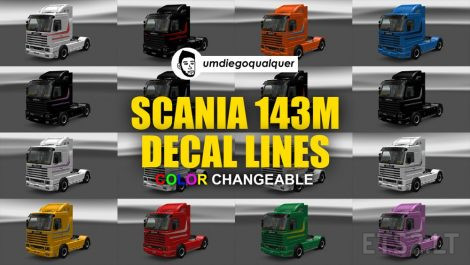 Skin Decal Lines (Color Changeable) for "Scania 143m – Edit by Ekualizer"
Tested on 1.27.x game version
Thanks Ekualizer for the truck!
Boa Viagem!
Credits:
umdiegoqualquer
DOWNLOAD 463 KB