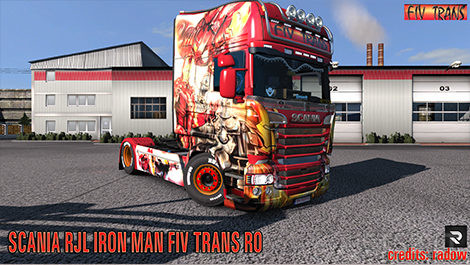 -testet on 1.33.X
-content: -IRON MAN Skin
for ETS 2
IMPORTANT: FOR THIS YOU NEED SCANIA RJL
Installation (easy):
– unpack the archive and put scs file in to My DocumentsEuro Truck Simulator 2mod
– Enjoy the Addon.
Credits:
Radow
DOWNLOAD 6 MB

Tested on 1.33!
Skin for Volvo FH 2012 from company Grampian Continental, division Continental Logistics.
Required mods
– [Eugene] Volvo FH&FH16 2012 Reworked
Recommended mods
– [50keda] Wheels Pack
Specially created for
– Globetrotter XL cab
– 6×2/4 midlift chassis
!!! Please don't edit and reupload without my permission !!!
Enjoy 🙂
Check my Facebook page 🙂
https://www.facebook.com/SkinsByRoman71/
You can support my work if you want, it's up to you 🙂
https://www.paypal.me/Zyrtell
Credits:
Roman71
DOWNLOAD 198 KB
Kosmos v3 Skin for Scania RS Longline Truck
Test version: 1.33
I wish you a pleasant game!
When you distribute to other sites, keep the author's link
Credits:
Aleksandro
DOWNLOAD 21 MB
Test version: 1.33
I wish you a pleasant game!
When you distribute to other sites, keep the author's link
Credits:
Aleksandro
DOWNLOAD 21 MB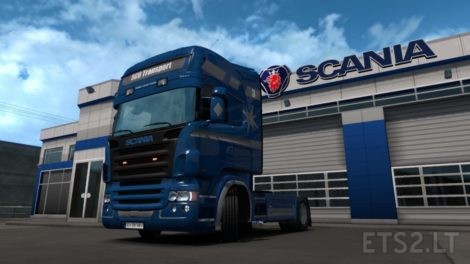 For this mod you need Scania RJL
Credits:
Skin: Sergiu988
DOWNLOAD 21 MB
MOD TESTED ON 1.32 AND 1.33
Special livery created by Scania Brazil to celebrate 60 years of Scania in Brazil.
GS MODS (c) 2019
visit my Youtube Channel: https://www.youtube.com/c/KsTrintaw
Credits:
Gabriel Faria (KS Trintaw/ GS Mods)
DOWNLOAD 81 KB