Search Results for:
tandem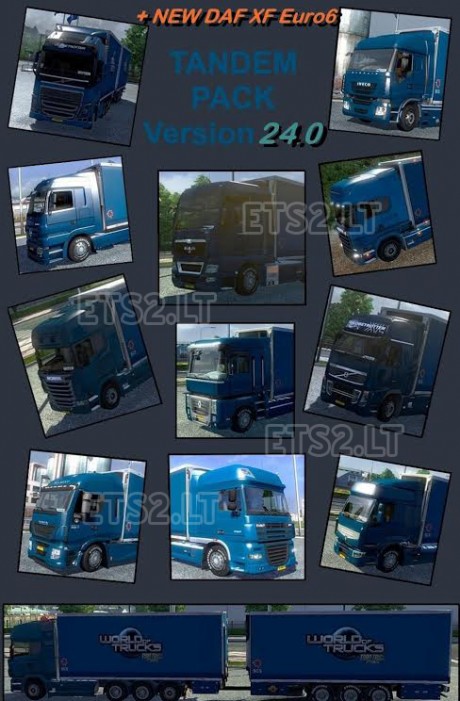 Volvo FH16 2009 and 2012, Scania 2009 and Streamliner, MAN TGX, DAF XF, New DAF XF Euro 6, Mercedes Actros, Iveco Stralis and Hiway, Renault Premium and Magnum BDF Tandems with Trailer and Cargo
– This is 11 standalone trucks with trailer (BDF tandem) and tandem cargo to haul
– To drive these trucks you need to go to your favorite truck dealer and upgrade a truck
– Select Chassis 8×4 Tandem and select the dot just behind cabin to add the Coolerbox
– You can paint and upgrade the truck with accessories just like all other stock trucks in game
– Sleep once or twice in the game will make you see alot of tandem cargo trailers to haul
– This trailer will let you haul about 22 different cargo types from 18 t to 25 t
Update v 24.0
All Trucks:
– Now with and without TAGLIFT added to both 6×4 and 8×4
– Wheels adjusted to fit in bender in taglift
– Hook moved down (So drawbar do not hit storage)
– 6×4 and 8×4 has been tweaked and fixed, wheels more backwards
– Another storage added to all 8×4 chassis, while wheels was moved back.
– Lights on fender has been removed from all trucks both 8×4 and 6×4
– Gap between Cabin and Chassis removed (Coming soon)
– New 1.14 Cargo system has been added
All Trailers:
– Hook moved down to match new hook placement on Trucks
– Looong Trailers 25m added. (Only coolliner)
Volvo FH16 2012:
– Roof Spoiler Volvo FH 2012
– Driver and Co-driver plates moved a little in cabin Volvo FH 2012
– Lights improved on Coolliner Cargo and Trailer.
– New wheels in coolliner trailer
– Coolliner straighten
– Fixed some errors with EU and UK cabin when looking from outside and in
Iveco Stralis:
– Sideskirts moved back on Tandem chassis
DAF XF Euro 6:
– Brand new Truck added
DAF XF:
– Sideskirts raised on Tandem chassis
MAN TGX:
– Badge has been corrected
– Accessories errors removed
Mercedes Benz:
– Accessories errors removed
Mod Compatible:
– This mod work together with almost all mods out there. But some other truck mods could cause problems.
– Compatible with ETS2 v 1.14.x and above. Needs minimum v 1.14.x or later
Replacing:
– No model will be replaced. This is standalone
Authors: Flemming Vinge, SCS ir Blender (50keda's Blender)
DOWNLOAD 404 MB
.