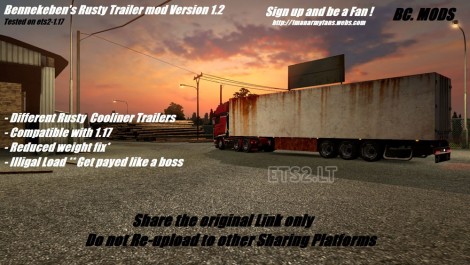 Mod created by Bennekeben
Feel free to add me on steam @ Bennekeben
MOD Tested on ETS2 version1.17
Updated to 1.17 compatible
Reduced weight from 34 to 14 tons
This mod can work on lower versions but is not tested.
Whats in this mod?
————————
Custom Trailer skins with a rusty rat look by Bennekeben
added different styles of rusty looks with custom trailer Mudflaps with custom texts ;) by Bennekeben
Also this isnt just a rusty trailer, this trailer is possesion by the maffia and is used for illigal business..
Overloaded old Coolliner trailers weighing about 34tons filled with things they are willing to pay u good for!
Stay low, dont get any tickets and get payed like a boss!
Use your own truck or go for a quick job..
Maybe more differnt stylels of trailers..
also Rusty Trucks in construction..
Report a bug, Ask info and guide, find me @ Http://1manarmyfans.webs.com
Started off with a stand-alone Coolliner trailer by matdom1988.
Reworked everything so its compatible at its best.
Wheels added from 50.keda > alcoa with and without safetyring + most Brands & Ventyres > Red+White style.
Standard set with the Alcoa Dubblec Wheels.
Below i explained some help how to change the trailer wheels
u need winrar to open the mod and notepad to read the sii scripts.
To change the Wheel-Type/Model u need to change the commands yourself.
everything is added so its verry easy to do. remember to make a Back up of the mod incase u need
to start over…for more help feel free to add me on steam @ Bennekeben
Open the mod and…
HOW TO CHANGE WHEELS ON TRAILER
————————————————
go to def/vehicle/trailer/bc_mods0.sii
open bc_mods.sii and change the data_path line
ALCOA >> data_path: "/def/vehicle/t_wheel/coolliner1.sii"
Change to
VENTYRES >> data_path: "/def/vehicle/t_wheel/coolliner2.sii"
There are 3 axles so u need to change it to all 3 or
u can have 3 different wheels also.
coolliner1.sii = alcoa
coolliner2.sii = ventyres
————————————-
HOW TO CHANGE WITH/WITHOUT SAFETY RING (ALCOA)
———————————————————————–
To change the Alcoa with Ring or without ring follow path
def/vehicle/t_wheel/coolliner1.sii
and change model line
WITHOUT RING > model: "/vehicle/wheel/coolliner1/50k_scania_r_no_ring.pmd"
Change to
WITH RING > model: "/vehicle/wheel/coolliner1/50k_scania_r.pmd"
——————————————————
HOW TO CHANGE WHEEL BRAND (ALCOA)
—————————————————-
If u want to change the brand on the alcoa wheel then change the brand name to what u want
SCANIA > model: "/vehicle/wheel/coolliner1/50k_scania_r_no_ring.pmd"
DAF > model: "/vehicle/wheel/coolliner1/50k_daf_r_no_ring.pmd"
MAN > model: "/vehicle/wheel/coolliner1/50k_man_r_no_ring.pmd"
MERCEDES BENZ > model: "/vehicle/wheel/coolliner1/50k_mb_r_no_ring.pmd"
VOLVO model: "/vehicle/wheel/coolliner1/50k_volvo_r_no_ring.pmd"
——————————————————-
HOW TO CHANGE SINGLE/DUBBLE WHEELS
If u dont like the dubble wheels u can add the single alcoa wheels aswell
change the same line but replace the r with a f ( standing for rear & front)
REAR > model: "/vehicle/wheel/coolliner1/50k_scania_r_no_ring.pmd"
FRONT > model: "/vehicle/wheel/coolliner1/50k_scania_f_no_ring.pmd"
—————————————————–
Author: Bennekeben
DOWNLOAD 80 MB