The content of this mod:
– Renault Prémium and Magnum skin
– Daf xf skin
– Krone Cool Liner trailer
– Krone Profiliner trailer
The trailers are standalone.
Tested: 1.18.1.3
If you share this mod, please use the original download link! Thanks!
Credits:
azannya26
DOWNLOAD 1.5 MB

Updates:
Version 5.0:
This is the last and final version i will do of this van.
Reason? recently
a fake V5 was released with nothing done to it.
This version does not have template but you can change the colour with will. i have decided to let you edit the van as you please but keep credits and make sure not to reupload fakes of this van!!
Version 4.0:
Fixed Wipers
Fixed speed'o'meter
Fixed fuel gauge
added Solo Fracht Mod from Szajbus71 to the archive so you can deliver loads
Version 3.0:
Added beacon
P.S i am aware of other bugs will fix them asap
Version 2.0:
– Added GPS on interior and exterior
Version 1.0:
This version has the wheels updated to 1.18
Also in this version there is a template once you skinned the template replace bodybasic.dds in it in the following folder –> Mercedes-Benz Sprinter 1.18vehicletruckmercedes_benz_2009
Credits:
Dragonmodz, Szajbus71, Stino , StockiMods, brendenhoad@gmail.com
DOWNLOAD 30.5 MB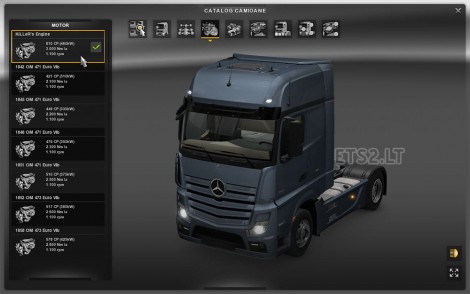 Tested on 1.18
top speed recorded: 198 km/h
do not reupload
Credits:
KiLLer Modding
DOWNLOAD 4 KB
Trailer for Diesel — RENAULT ASSISTÊNCIA
This is a small mod for ETS2 tested on latest version. very easy to use. It's a Yellow Trailer, with Renault Assistência written on it. It needs ADR class 3, because it's a flammable liquid. It is just a trailer skin.
please share in the comments if there's any bug.
—The mod is uploaded in ShareMods.
Credits:
JoaoSilva
DOWNLOAD 3.9 MB
It works only with Scania RS by RJL on Normal, Highline and Topline cabins. It is paintable, so you can make as you want
Credits:
Catalin
DOWNLOAD 21.4 MB
As you can see on the pics. Trailer Chereau inclusive and also skin for Mercedes Actros mp4. Jakob Hermann is music producent from Germany. This nice set transport his staff in all the concerts. Have fun. You can easy upload this mod in other websites.
Credits:
TiGi
DOWNLOAD 5.7 MB