Included in this mod are the background images, and for the job market map(s) a brighter green "selected city" marker and pale blue "undiscovered city" markers. ROAD COLOURS ARE DEPENDENT ON YOUR GAME_DATA.SII FILE WHICH IS NOT INCLUDED HERE.
Author: Elmer BeFuddled
A small mod to replace the default ProMods World Map and Job Market map with a more colourful background.
For those using the default game map, with or without Going East, I've made a separate map.
Coverage is all of the new ProMods v1.91 map area and the mod only contains the required background images.
Author: Elmer BeFuddled
Here is the original http://ets2.lt/en/trailer-profiliner-skinable/
Credit: Vaay1999
Standalone: Fred_be
DOWNLOAD 616 KB

Templates for Trucks:
– Volvo FH 2012
– Volvo
– Scania T-cab
– Scania
– Renault
– Mercedes
– MAN
– Iveco
– DAF
– DAF XF Euro 6
Author: lordofking1100
DOWNLOAD 34 MB
Tested on 1.16.x
This mod includes all vehicles from TDU. The chance of every car to appear has been drastically increased (from 0.01 earlier to 0.5 now). However, super fast/expensive car are less likely to appear than cheaper cars. For example, an Audi-S6-avant will appear more often than a Bugatti Veyron. SCS-cars will still appear the most.
Mod should work with all maps. Most northern European countries included, countries of north Africa excluded.
Traffic density increased, from max. 50 cars/4 trucks to 80 cars/7 trucks.
The traffic density, spawn rate of different cars etc. etc. is the same in every country included. Have fun!
Author: DualCore
DOWNLOAD 132 MB

Detailed Scania Ronny Ceusters Truck with lights, wheels, skin
Tested 1.16.1.
Authors: Syncron, Ahaneim, Mr.Poland, Chudy, Mihai, Ventyres, Sebastian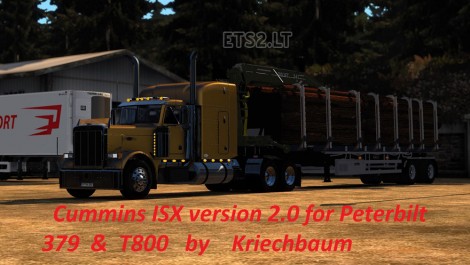 Version 2.0 of the Cummins ISX engine sound is ready.
It works for Pet 379 & Kenworth T800. Later i ll do it for Coronado and others if needed.
Author: Kriechbaum
DOWNLOAD 7 MB