This mod will restore the port in Valencia.
Works with ProMods 2.41.
Added 4 ferry connection from Valencia to:
– Visby
– Palermo
– Bergen
– Plymouth
Put this mod above ProMods files.
Credits:
ProMods Team, SlavikSD
DOWNLOAD 3 MB

Here you have a Save Profile for PROMODS 2.41 MIDDLE EAST ADDON ETS2 1.35
– Money 1,380,750,560
– skills
– All Garages
– All Truck dealers
– Level 31
–all cities discovered(europe+middle east)
Credits:
AfzallPixell (youtube)
DOWNLOAD 11 MB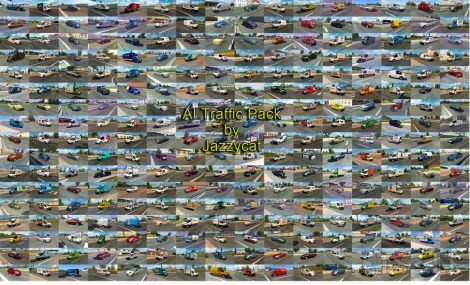 Added new countries from Promods Middle-East Add-on.
Priority is not important.
Credits:
Jazzycat
This mod add ferry connection between:
Novorossiysk (Russia) and Constanta (Romania) – 9 hours on the way
Novorossiysk and Thessaloniki (Greece) – 16 hours on the way.
Ports Novorossiysk, Constanta and Thessaloniki works both for import and export of goods and cargo.
Set with a higher priority than all maps.
Work with ALL maps-DLC, Promods 2.41 and Southern Region 7.8(for patch 1.35.1.x)
Version ETS2 patch: 1.35.1.13
Credits:
Sergey061, dobr4060, Promods Team, Southern Region Team
DOWNLOAD 879 KB

This is the map mod for Euro Truck Simulator 2, which expands the game
world with detailed map of Balkans.
Warning: From this point forward, you are required to run this mod in DirectX11 mode, otherwise missing textures and errors might appear, which we sadly can't fix.
Requires latest Promods version and all released map DLCs to run. Runs only on latest ETS 2 update, 1.35.
Other map addons (e.g. RusMap, Poland Rebuilding) that are compatible with Promods also work with this mod.
Scandinavia DLC is required to run the addon.
Going East! DLC is required to run the addon.
Viva la France! DLC is required to run the addon.
Italia DLC is required to run the addon.
Beyond the Baltic Sea DLC is required to run the addon.
Changelog:
Compatibility with ETS 2 version 1.35
Bug fixes and other improvements
New features:
Croatia:
– Zagreb
– Osijek
– Slavonski Brod
– Virovitica
– Donji Miholjac (scenery village)
Bosnia and Herzegovina
– Brod
– Doboj
Serbia:
– Sremska Mitrovica
– Novi Sad
– Subotica
– Zrenjanin
Hungary:
– Kecskemét
Slovenia
– Koper
Albania
– Durrës
Mod manager order if you're using Promods and Rusmap:
Project Balkans Definition Package
Project Balkans Map Package
Project Balkans Assets Package
ProMods+RusMap Connection
RusMap Map Package
RusMap Model Package
ProMods Definition Package
ProMods Map Package
ProMods Media Package
ProMods Models Package 2
ProMods Models Package 1
ProMods Assets Package
RusMap Def Package
Credits:
grega, volan123, GamerHacker, Jazzycat, Danculovic012
DOWNLOAD 63 MB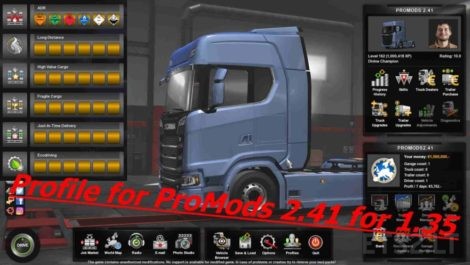 Profile for ProMods 2.41
The profile offers 1.500,000 € and 1000,000 XP
Created for ETS2 1.35.x
Add to Documents / Euro Truck Simulator 2 / Profiles
Credits:
Honza_CZ
DOWNLOAD 3 MB