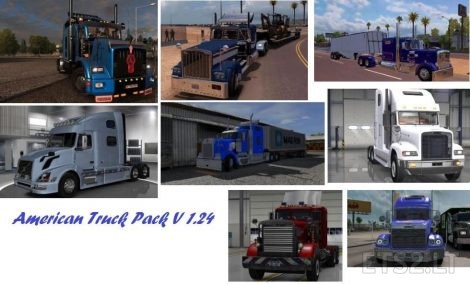 Hello everybody, i want to present you my American Truck Pack for latest versions of game (may work on 1.23 too).
Truck Pack includes:
KENWORTH W900A
Authors: Chris aka Bayonet. evh5150vanhalen, rockhobbit99. Corby Colonel, SilveradoHD, Stas556, dmitry68, MaxaGent, Kriechbaum.
Peterbilt 359 PVT
Authors: Martin, Kriechbaum, Tucker, Maxagent.
Freightliner Classical FLD 120
Authors: Anton Aronson, KW_Driver, guidot
Freightliner Coronado
Authors: DB-3, Stas556, dmitry68, kriechbaum, vitalik062, Vladimir1203.
Peterbilt 351
Authors: JAWA, Stas556, Smith, dmitry68, Myshanka, Kriechbaum, Knox_xss.
Kenworth W900
Authors: SCS, Kriechbaum, Vladimir1203, Fenix.
Volvo VNL 780
Authors: AU44, Malcom37, Kriechbaum, ETS2Reload, Fenix.
Kenworth T800
Authors: DBR, Dmitry68, Stels, Oq37, Ventures, Vladimir1203.
Every truck is standalone, with tuning, sounds, wheels, skins.
Truck pack was tested on 1.24 version and works good.
Enjoy!
REUPLOADING TO OTHER FILEHOSTERS OR EDITING MODELS STRICTLY FORBIDDEN!
Credits:
Fenix