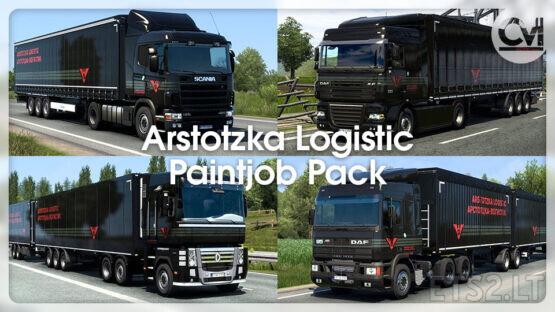 Arstotzka Logistic (Арстоцка-Логистик) is a fictional state-run logistics company based in the region of Lendiforma, Arstotzka. It is wholly owned by the Arstotzkan Government, and operated by the Ministry of Transportation.
Arstotzka is a fictional country from the game Papers, Please.
Trucks supported:
– DAF XF105
– Renault Magnum
– Scania R 2009
– Scania Streamline
– Volvo FH Classic
– XBS's DAF 95 ATi
– XBS's DAF F241
– SimulasyonTURK's Ford F-MAX
– XBS's SISU M-series
– RJL's Scania R 4-series
– RJL's Scania R
Trailers supported:
– Krone Profi Liner
– SCS Box Trailer
Glory to Arstozka!
Please don't reupload my mods to other sites. Thanks, and enjoy! 🙂
Credits:
Carsmaniac
DOWNLOAD 5 MB
DOWNLOAD 5 MB [mirror]