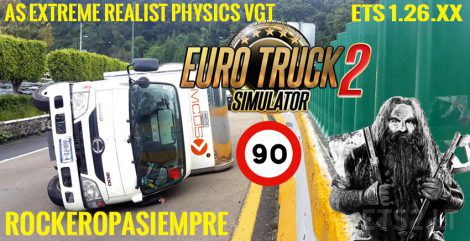 I leave here a recent mod, for those who like to use physical mods somewhat more extreme than usual.
The mod directly affects the physical behavior of the truck and the interior physical (driver).
It is configured to be able to use VGT, (Steering Wheel, Gamepad and Keyboard).
It affects very directly on the speed that is maintained. At more than 90 kilometers per hour, it will become virtually impossible to dominate a closed curve, as the steering hardens considerably, as we increase the speed. (Watch video).
That is why you have to predict the speed of entry to the curve as you approach. Once inside if you go miles, nothing can do, since the wheel will be like a stone.
For correct operation of the mod, make the necessary adjustments as shown in the video. This way you will get a more real driving.
Beta Tester:
To the keyboard: fredy and camelot.
To the controls of the gamepad: Kabuto.
Please respect original download link.
Credits:
Rockeropasiempre
DOWNLOAD 97 KB