BDF Big Mega Pack V 2.0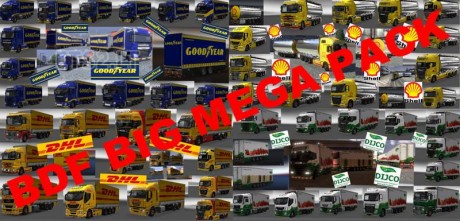 Version 2.0:
Update for patch 1.15.xx
BDF BIG MEGA PACK
Skin for all trucks from the game, Total 48 5 Trailer Truck Skins Skins.
4 tandem chassis 2 with lift axle.
All images entsprechem the BDF pack is Offered as a mod.
Mod has been re-edited Cargo, skin, Trailers.
The pack can only be driven BDF orders and "High Power Cargo Pack DLC"!
Credits:
trokei, Flemming Vinge
Popular mods