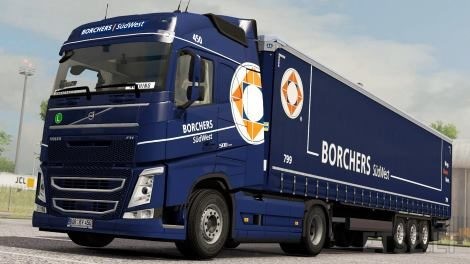 It's a Paintjob for the Volvo FH by the Company Borchers SüdWest. This truck is known from the DieselTV Youtube Channel. Driven by Freddy.
it includes a Krone Trailer Skin and a License Plate for the truck.
For that you need the License Plate Pack for Modified Trucks by Donovan https://forum.scssoft.com/viewtopic.php?f=175&t=266010
It replaces the German plate.
Tested only with Eugenes reworked Volvo.
Game version 1.35 (DX11)
Credits:
doexpectnothing
DOWNLOAD 729 KB