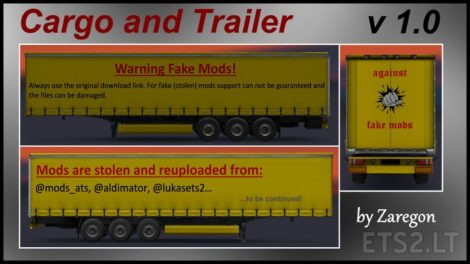 Cargo and Trailer v1.0
This mod adds 22 trailers (ai traffic enable).
Credits:
Zaregon
Trailer: MDModding, Matdom1988, RommiTZ
Created with Ets2 Studio
DO NOT REUPLOAD!
Have Fun…;).
Against Fake Mod
Always use the original download link. For fake (stolen) mods support cannot be guaranteed and the files can be damaged. Mods are stolen and reuploaded from: @mods_ats, @aldimator, @lukasets2.
It is a lot of work to create a mod and it takes a lot of time. Before you download a mod always make sure that you use the original download link.
regards
Zaregon
Credits:
Zaregon
DOWNLOAD 45 MB