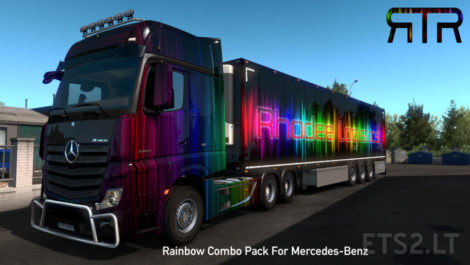 Combo pack includes Mercedes-Benz paint job and trailer ownership paint job(previous one had Kogel Coolmaxx V2 paint job). Enjoy.
Credits:
tyb33rk, SCS
DOWNLOAD 11 MB
this is a cr johansson skin mod for Scania rjl with kast tandem,
the Company is a real Swedish company
Credits:
kast,baseec,rjl
DOWNLOAD 34 MB
this mod is a paintjob the Mirtrans Uruguay company for trucks and trailers owned.
Built-in Trucks Skin:
Man TGX
Mercedes New Actros
Scania Streamline
And All Trailers owned.
Credits: LoquilloW
Visit Youtube Chanel: Doble V Games.
Enjoy.
Credits:
loquilloW
DOWNLOAD 1 MB
This painting was made as a public expression of my opinion
the painting is available:
-Daf xf 105 scs
-Daf xf 106 scs
-scs staddard ownership trailer
more painting on these links:
Facebook: https://www.facebook.com/2000eszoli-modding-2232133637066949/
Instagram: https://www.instagram.com/2000eszoli_modding_hungary/
Credits:
2000eszoli modding hungary
DOWNLOAD 1 MB
Skin for DAF XF 105 Super Space by Vad&k + BDF addon
BDF addon by Vad&k must be installed
Please keep the original link
Пожалуйста, сохраняйте оригинальную ссылку
Support me:
paypal.me/amikhaylovskins
My workshop in "VK":
vk.com/a.mikhaylov_skins
My workshop in "Steam":
https://steamcommunity.com/id/m_andrey_v/myworkshopfiles/?appid=227300
Hope you like it.
Enjoy 🙂
Credits:
A.Mikhaylov
DOWNLOAD 1 MB
This combo pack was designed only if used with Flemming V's Tandem chassis otherwise you will have messy side skirts. In the rest, everything see on the screenshots are included (mirror skins,tandem skin,etc.).Enjoy.
Credits:
tyb33rk, SCS,Kajeena,Flemming V.
DOWNLOAD 76 MB