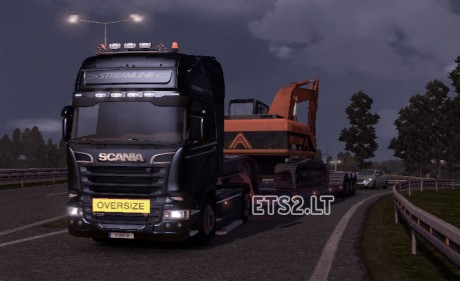 Mod adds an oversize sign to the front grille of Scania R2009 and
Streamline trucks, as well as 143m and 50keda.
Sign replaces the Twister bar, and is skinnable so you can change it
to say whatever you want (what I have done).
Credits:
dbülow, pat6234
DOWNLOAD 22 KB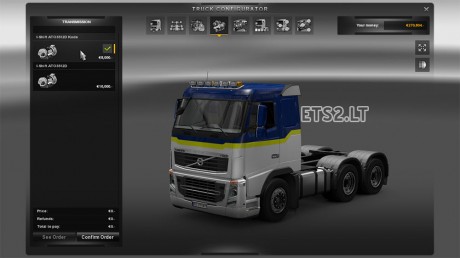 Powerful 2500 HP, 9500 N.m engines and high range engines for all
trucks.
The transmission replace the 'R' version default transmissions.
Credits:
Kuda001
DOWNLOAD 21 KB
This mod is created for Peterbilt 389 mod adds:
– All-wheel drive 6×6
– 600 hp Engine
– 700 hp Engine
– 850 hp Engine
– 1000 hp Engine
Tested 1.8.2.5 version
Author: Comaro61
DOWNLOAD 4 KB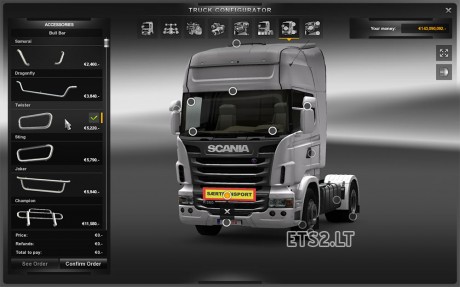 Særtransport(DK) Sign.
-Replace twister grill
-Skinable, so u can change it for your own language.
-Works on: Scania R2009, Streamline, 143m,50keda
Credits:
dbülow
DOWNLOAD 0.7 MB
– Stock 6×4/2 sideskirts and g-string.
– Modified Sunshield with extra lights.
– Skinable cabin from exterior view.
– Tinted glass both in inside and outside view.
Credits:
dbülow
DOWNLOAD 22.7 MB