PROHIBITED UPLOAD THE WORK TO ANY SERVER WITHOUT PERMISSIONS.
Update of mod.
Added in this version Daf XF 105 and Daf Euro 6.
Specifications:
– Independent mod, adds the interiors, does not replace them.
– All interiors unlocked from the zero level.
– 40 different Interiors for 4 of the truck brands of the game.
– 8 different interiors for Scania R 2016 + 4 different flyers.
– 8 different Interiors for Scania S 2016 + 4 different flyers.
– 8 Interiors for Renault Magnum + 8 different steering wheels.
– Interiors for normal cabin, and high cabin.
Changes in this version 1.32.XX:
– Removed obsolete files from the previous version.
– Adapted all files for operation in version 1.32.XX.
– Recovered all the automat for its operation in the new version.
– 8 new interiors for Daf XF 105 + 8 different steering wheels.
– 8 new interiors for Daf XF Euro 6 + 8 different steering wheels.
Author: Rockeropasiempre
Weight of the file: 289 Mb
A greeting.
Credits:
Rockeropasiempre
DOWNLOAD 289 MB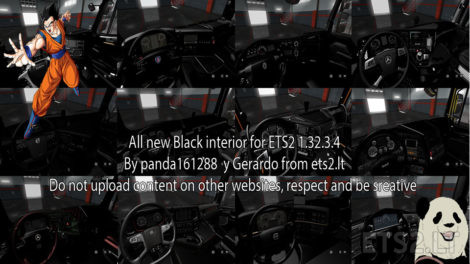 from new versión game, black interior from all trucks
Credits:
panda161288 & ɢӘЯΛRĐΘ ‼
DOWNLOAD 10 MB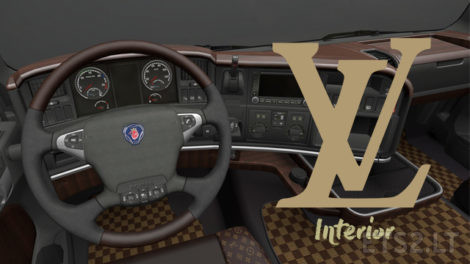 Made of French leather, and hand-crafted by a specialist, this interior is all you need to make your truck look fantastic. Without this expensive masterpiece, your truck will never be 1337 enough. Are you ready to shine?
Attention: It replaces the Exclusive interior. Standalone version coming soon. At least it will not ruin your savegame if uninstalled 🙂
Current Version: 0.5.2
Release Date: 01/20/2017 MM/DD/AAAA
Compatible with pretty much every build.
Credits:
Araripe
DOWNLOAD 136 KB
Scania R & S Blue Yellow Interior
Tested on last version, work super
ENJOY
Credits:
File4
DOWNLOAD 414 KB

Scania 2016 S & R Black Blue Interior
Nice blue interior for new S and R Scania ?
ENJOY
Credits:
File4
DOWNLOAD 1.3 MB
Tested on last version. Work super
Scania with new dahsboard BLUE
ENJOY
Credits:
File4
DOWNLOAD 3 MB