Here you have a nice pack with lights for all original scs trucks and Scania RJL.
Back Lights for Interior V 1.0
Posted in Euro Truck Simulator 2 – Tuning & Parts
tested on newest 1,26 version.
Credits:
Blade1974
DOWNLOAD 5.2 MB
Interior for Scania RJL by FuraFemDagarEtteSovit
Works with latest RJL version AND latest ETS2 version
Credits:
FuraFemDagarEtteSovit
DOWNLOAD 2 MB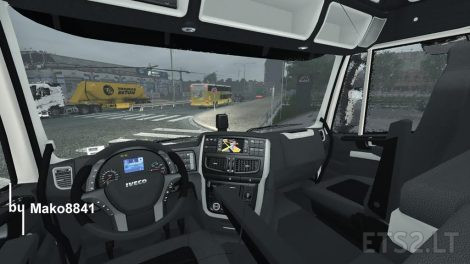 Iveco Hi-Way Dark Gray Interior
Description:
– Iveco Hi-Way Dark Gray Interior
– Tested in ETS2 v1.26.x.
– Made with ETS2 Studio
– Please respect my work, thanks…
Credits:
Mako8841, SCS Software
DOWNLOAD 20 MB
-Mod changes lots of interior and exterior (cabin/chassis) parts materials and textures for all vanilla trucks;
-Mod aims to improve visual experience of the ETS2 by changing stock textures to high quality (HD) textures;
-Most of textures based on real interiors and exterior truck parts;
-Added new windshield wipers modes for all trucks;
-Improved looks of chrome, metal, plastic and glass parts of the trucks;
-Improved models of vanilla MAN TGX and Iveco Stralis.
Mod was tested on ver. 1.26.x.
Donate
All my mods are free to download and will be distributed this way in the future too. Hovewer, If you appreciate what i`m doing and want to support my work, you can transfer any amount of money, using PayPal on this email: [email protected]
All donations are voluntarily! Every donation counts! Thank you!
Changelog for ver.1.1:
-fixed errors in materials and definition files;
-improved various textures of interior and exterior trucks parts;
-added slightly updated models for vanilla MAN TGX and Iveco Stralis.
Credits:
AlexeyP, SCS Software
DOWNLOAD 573 MB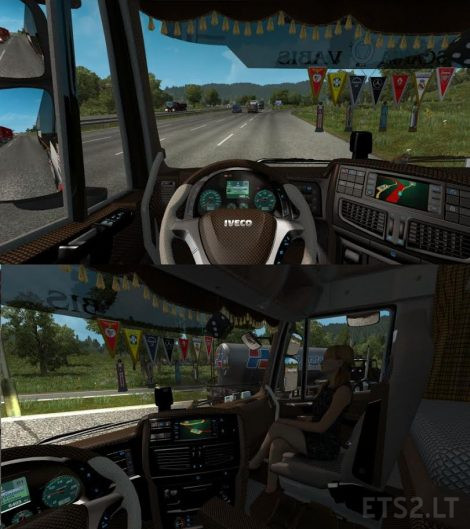 Brown Interior For Iveco Hi-Way Truck
Tested 1.26 Game Version
Author: ФСЦ
DOWNLOAD 2.2 MB
New full black color for scania R and T of RJL tested in 1.26.2.2
Credits:
panda161288
DOWNLOAD 2 MB