FC BARCELONA 2 Own-Trailers Paintjob
Credits:
27C
DOWNLOAD 16 MB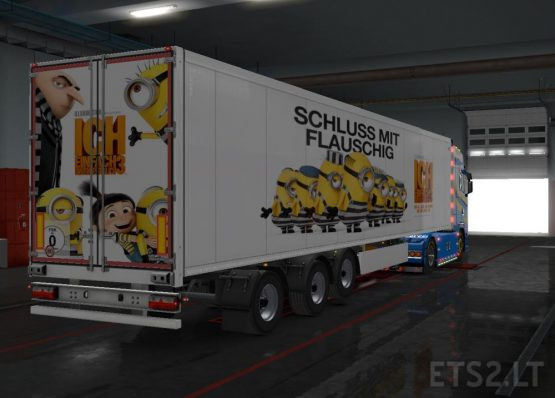 A skin for the original trailer from SCS with the advertisement for the movie "Ich – Despicable 3"
Credits:
Richard Schnuller
DOWNLOAD 11 MB
Good day everybody,
here you get the BVB skin for the Krone Profiliner trailer.
Uploading to other platforms is strictly prohibited.
Credits:
Assassins-Senshi
DOWNLOAD 43 MB

Hi, I'm giving out my old trailer. Modeled from scratch based on photos. It has modest tuning so far but if you have an idea for its extension write in the comment. The semi-trailer runs on 1.36, has a template but has one camera error but it does not disturb the game.
-Ownable
-Have template
-Have trailer cable
https://forum.scssoft.com/viewtopic.php?f=36&t=281268&fbclid=IwAR0eH6dwJxMOjMYvzxKUwqSvcSdfY4bqs9ZPVPg9ubx9NJKvHFK5S2cB4bg
Credits:
Adver, kazan1234, SCS
DOWNLOAD 45 MB

NTM PWT Trailer by Kast and dutchliner, updated by Ultrabald for ETS 1.36 DX11.
Change log :
_Textures and model updated to DX11.
_Minor adjustements.
Known issues :
_Two errors in gamelog that are not harmful.
Credits:
Kast, dutchliner, Ultrabald
DOWNLOAD 59 MB
——— TURKSIH ———-
* 18 Adet şirket modifiye
* portakal skinli
* kapalı treyler uyumlu
* İyi Oyunlar ?
———- ENGLISH ———–
* 18 Değiştirilmiş şirket
* portakal kaplaması
* Kapalı treyler
* İyi Oyunlar ?
Credits:
ccs
DOWNLOAD 4 MB