The pack in version 1.2.0 is compatible with all original map companies, DLC Going East, DLC Scandinavia,
Map RBR, Map Eldorado, RusMap and other map using ETS2 Enterprise base.
Please, visit this site:
http://www.loggaming.com.br
Credits:
Geovane Rocha and Equipe LOG Gaming
DOWNLOAD 18 MB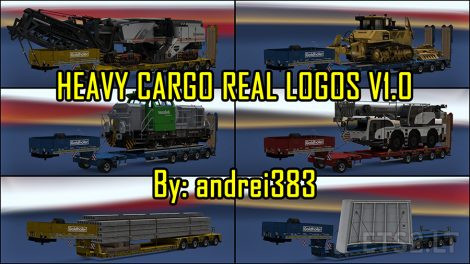 This mod replaces the default logos of the Heavy Cargo DLC with their respective real-life equivalents.
Eurohauler: Goldhofer
Transformer PK 900: Siemens
Writigen: Wirtgen
Dozer Crawl: Komatsu
Bossloc: Vossloh
Rex-Tex: Terex
Issues:
1. Due to the texture mapping of the models, the decal placements may not be exactly the same as real-life.
2. Due to the texture mapping of the models, some decals have been omitted.
Installation:
1. Copy the "Heavy_Cargo_Real_Logos_andrei383.scs" file into your ETS2 mod folder.
2. Activate the mod in the ETS2 mod manager.
Important Info:
1. I am not responsible for any damage that this modification may cause. This mod is provided on an "as-is" basis and was developed and tested for the 1.27.2.1s version of Euro Truck Simulator 2.
2. Please do no re-upload this mod to other sites. This mod is provided as freeware. If you paid for this mod, demand a refund.
3. You may NOT modify and reupload this mod (or any part of it) without permission.
Contact/Donate:
If you would like to support the continued development of this and other (future) mods, please consider making a donation. You can donate via PayPal: http://paypal.me/andrei383
If you have any questions, comments, or concerns please contact me in the comments or on the SCS Forum.
Credits:
andrei383
DOWNLOAD 2 MB
-change decals on trailer to Nooteboom
Loads decals:
wirtgen_w250i
Transformer Smit Nijmegen NL
Locomotive Vossloh
crane TEREX
Bulldozer Komatsu
Credits:
SCS/Hounddog
DOWNLOAD 528 KB
Fix for 1.27 and credit new def
+axle lift
+all trailer dlc
Credits:
karkas, scs
DOWNLOAD 1.4 MB

Trailer Pack for Euro Truck Simulator 2 only in version 1.27.X. This pack will replace the original original map trailers and DLC Going East trailers.
The pack is compatible with several maps and DLC.
Maps:
• Bangladesh Coach
• Great Poland
• EAA map
• Eldorado map
• Estrada's Elite map
• farm map
• RBR map
• Rural map
• Project Balkans
• RC Map
• Rus Map
Credits:
Geovane Rocha and Equipe LOG Gaming
DOWNLOAD 100 MB
https://ets2.lt/en/oldschool-dumper-v-1-0-for-1-27-bytaina95/#more-159551

Visit
Taina95.blogspot.com
Follow me on facebook
facebook.com/taina19995
support me via paypal
[email protected]
COPY ON ANOTHER FORUM Or Website BUT KEEP ORGINAL DOWNLOAD LINK
DO NOT REUPLOAD!
The mod is tested in 1.27 without any other mods and it worked perfectly, game.log.txt is error free!
Please report any bugs that you find! Happy trucking!
Credits:
Taina95