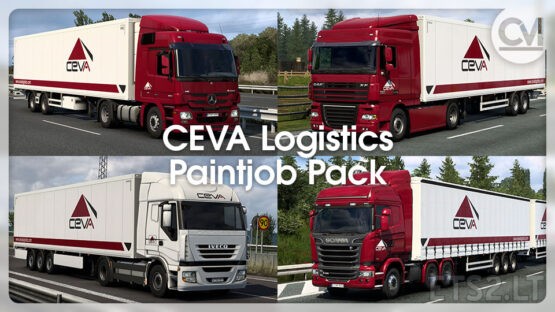 CEVA Logistics is a logistics company based in Marseille, France. Its lineage can be traced back to the Australian transport company Thomas Nationwide Transport (TNT), and after many divisions, acquisitions and mergers, today it is a fully owned subsidiary of CMA CGM, serving over 150 countries worldwide.
Paintjobs included:
– Standard red paintjob
– White paintjob for Ivecos
Trucks supported:
– DAF XF
– DAF XF105
– Iveco Stralis
– Iveco Stralis Hi-Way
– MAN TGX
– MAN TGX Euro 6
– Mercedes-Benz Actros
– Scania R
– Scania R 2009
– Scania S
– Scania Streamline
– Harven's Freightliner Argosy
Trailers supported:
– SCS Box Trailer
This mod reflects the livery used by CEVA Logistics prior to their 2019 rebranding.
Changelog for version 1.3.3:
– Adjusted colours to look better in 1.40+
Please don't reupload my mods to other sites. Thanks, and enjoy! 🙂
Credits:
Carsmaniac
DOWNLOAD 1 MB
DOWNLOAD 1 MB [mirror]