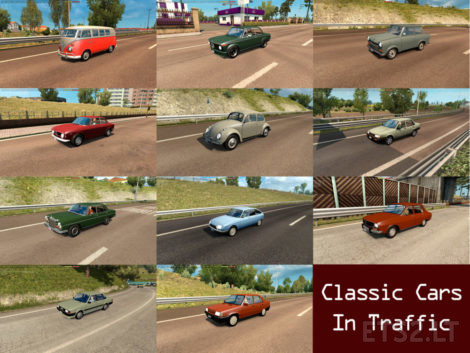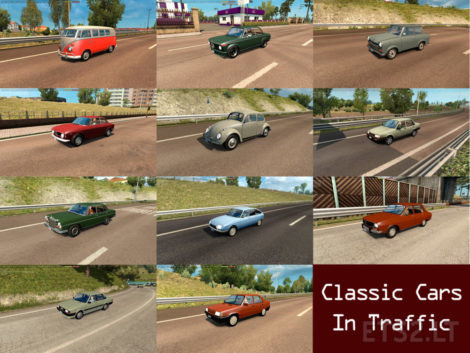 Pack adds in traffic cars from 60th, 70th, 80th years:
Alfa Romeo Giulia Sprint
Audi 80(B2)
BMW 2002
Citroen GS
Dacia 1300
Mercedes-Benz 300SEL
Renault 9
Toyota Corolla(E80)
Trabant 601
Volkswagen Beetle, Type 2(T1)
All standalone.
Works on any maps.
Compatible with AI packs by Jazzycat.
For version 1.31.x
Included two versions: with low frequency (0.1) and normal frequency (1).
For low frequency you must have in mod folder two files:
classic_cars_traffic_pack_by_TrafficManiac_v1.2base.scs
classic_cars_traffic_pack_by_TrafficManiac_v1.2low.scs
For normal frequency one file:
classic_cars_traffic_pack_by_TrafficManiac_v1.2base.scs
Version 1.2 – added Volkswagen Type 2(T1), BMW 2002, Alfa Romeo Giulia Sprint
Credits:
TrafficManiac
DOWNLOAD 7 MB [Modsbase]
DOWNLOAD 7 MB [Sharemods]