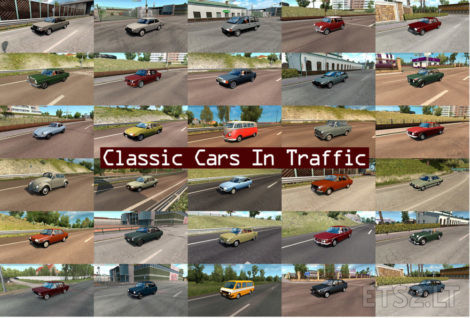 Pack adds in traffic 34 cars from 60th, 70th, 80th years:
Alfa Romeo Giulia Sprint, Alfetta GTV
Audi 80(B2), 100(C3 Avant)
Austin Mini Cooper, Healey
BMW 2002, 5(E28)
Citroen GS
Dacia 1300
Fiat 125P, 126P
Ford Escort II, Sierra
Jaguar E-Type
Mercedes-Benz 300SEL, 190, 300SL
MG MGB GT
Peugeot 204
RAF 2203
Renault 9, 11, Espace I
Saab 99
Skoda 100, 105
Tatra 613
Toyota Corolla(E80)
Trabant 601
Volkswagen Beetle, Type 2(T1), Golf 1
Volvo 242
All standalone.
Works on any maps.
Compatible with AI packs by Jazzycat.
For version 1.33.x
Included two versions: for use only with default traffic and for use with Jazzycats AI pack.
You must have in mod folder two files:
classic_cars_traffic_pack_by_TrafficManiac_v2.3base.scs
and
classic_cars_traffic_pack_by_TrafficManiac_v2.3def.scs (only with default traffic)
or
classic_cars_traffic_pack_by_TrafficManiac_v2.3jaz.scs (with Jazzycats AI pack)
Version 2.3 – added Audi 100(C3 Avant) and Mercedes-Benz 300SL.
Credits:
TrafficManiac