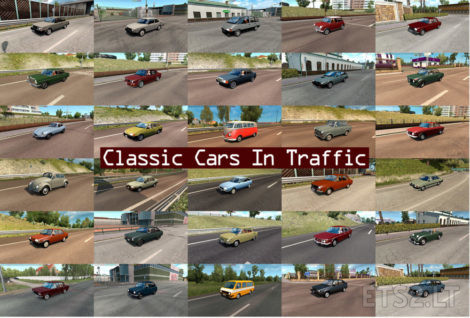 Pack adds in traffic 36 cars from 60th, 70th, 80th years:
Alfa Romeo Giulia Sprint, Alfetta GTV
Aston Martin DB4 GT
Audi 80(B2), 100(C3 Avant)
Austin Mini Cooper, Healey
BMW 2002, 5(E28)
Citroen GS
Dacia 1300
Fiat 125P, 126P
Ford Escort II, Sierra
Jaguar E-Type
Maserati 3500 GT
Mercedes-Benz 300SEL, 190, 300SL
MG MGB GT
Peugeot 204
RAF 2203
Renault 9, 11, Espace I
Saab 99
Skoda 100, 105
Tatra 613
Toyota Corolla(E80)
Trabant 601
Volkswagen Beetle, Type 2(T1), Golf 1
Volvo 242
All standalone.
Works on any maps.
Compatible with AI packs by Jazzycat.
For version 1.33.x
Included two versions: for use only with default traffic and for use with Jazzycats AI pack.
You must have in mod folder two files:
classic_cars_traffic_pack_by_TrafficManiac_v2.4base.scs
and
classic_cars_traffic_pack_by_TrafficManiac_v2.4def.scs (only with default traffic)
or
classic_cars_traffic_pack_by_TrafficManiac_v2.4jaz.scs (with Jazzycats AI pack)
Version 2.4 – added Maserati 3500 GT and Aston Martin DB4 GT.
Credits:
TrafficManiac