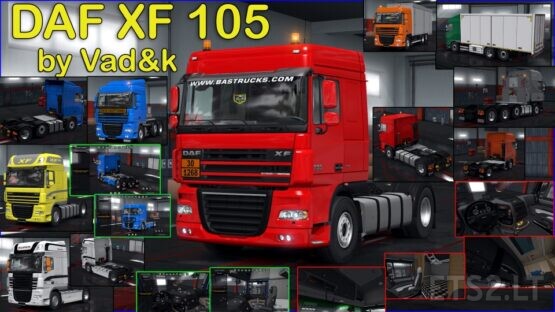 Test version of mod DAF XF 105 by vad&k.
Use this version only on patch 1.40-beta.
Changelog for ver. 7.3.1b
– fixed display of dashboard indicators.
The mod is not sufficiently tested and may contain bugs. I hope that you will report any bugs you find to me in my thread on the official SCS Software forum – https://forum.scssoft.com/viewtopic.php?f=35&t=223465.
Credits:
Credits: vad&k, SCS Software
Credits 50k_addons: 50keda
Credits airconditioning mod: Elitesquad Modz, vad&k
Credits Kraker/NTM for the DAF XF by vad&k: Kast, Nordisch, vad&k
Credits of on-board computer: piva
Credits of interior view: KoTuk071 (PodoNok71rus)
Credits of skins "Jan C. Swijnenburg": TheNuvolari