DAF XF Euro 6 Plastic Front Badge Plate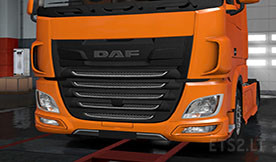 This is the plastic variant of the front badge plate for the Daf XF Euro 6. The company where I work has some Daf's driving around with this plastic variant and painted badge. I liked that more than the standard ones. So this is my version of it. BTW this is only a plastic variant for the Facelift. If you want it for de non facelift, ask me and I will add that to. This version works for 1.32,
Feel free to upload this mod on other site's, but please use the original download link and credits !!
Credits:
Mikoe
DOWNLOAD 102 KB
Popular mods